Kaizer Chiefs v Orlando Pirates
Watch Doctor Kaizer Chiefs and all the hype before the Soweto Derby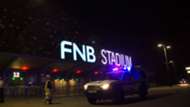 Kaizer Chiefs host Orlando Pirates in the Soweto Derby at FNB Stadium on Saturday afternoon.
Amakhosi beat Bucs just a week ago on penalties in the Telkom Knockout Cup quarter-finals, and this time they clash in the PSL.
Chiefs are leading the table, while Pirates are seemingly out of the race already but their fans would love nothing better than denting the hopes of their fierce rivals.
The banter between the clubs has already started on social media and we take a look at the best comments.
We start with a rather imaginative video posted on Twitter where a fictional Dr Kaizer Chiefs tends to patients, representing PSL clubs. This comedic sketch is not for sensitive viewers.
To strike back Pirates fans believe luck is on their side with Springbok rugby captain Siya Kolisi paying a special visit to Bucs coach Rhulani Mokwena and captain Happy Jele.
Chiefs fans are not too happy with this visit and create their own joke on the matter.
You can follow the highlights of the Soweto Derby anticipation below.
Good morning, Dr. Kaizer Chiefs a GP located in Naturena is opened at least two times a week. pic.twitter.com/B1UBeH3n0j

— SAMIR NURKOVIC ❤️ (@Mkhu28) November 8, 2019
We take it easy tonight but tomorrow he can join me and my friends, we will be in Soweto for the #SowetoDerby after party

— Maliks (@Matoti_Maliks) November 8, 2019
The Soweto Derby too.What a weekend! https://t.co/6PCHfAUynW

— DhanieBoy🇺🇬 (@BryanKalulu) November 8, 2019
Looks like the #SowetoDerby will be in stormy weather. And there is a chance of light rain for the #Springboks #TrophyTour in East London. Talk of raining on their #TrophyParade . https://t.co/c7UHqEDGZy

— Weather Master (@JoelGuy_) November 8, 2019
Our captain Happy Jele &Mthokozisi Dube are suspended for tomorrow's game . #SowetoDerby #oncealways #OrlandoPirates #BucsUpdates pic.twitter.com/mXXhOWIZLF

— @BucsUpdates_ (@BucsUpdates_) November 8, 2019
Come enjoy the #SowetoDerby with us tomorrow (Saturday, 9th November 2019) at Thokoza Park in Soweto.

Woz' Chilla Nathi @CityofJoburgZA @JoburgParksZoo pic.twitter.com/kfFIHqMtXS

— Soweto TV (@SowetoTVchannel) November 8, 2019
#TheLastSowetoDerby2019 #SowetoDerby ☠️☠️ https://t.co/3UqWvJbkFA

— Thembi® (@ThembiNdw) November 8, 2019
A referee who can handle soweto derby #msw @MarawaSportShow @robertmarawa @Bevstar7 pic.twitter.com/9iGXJ9Gn3x

— kabelo godfather loliwe (@Kabelololiwe13) November 8, 2019
#Records If Katsande runs onto the park tomorrow it will be his 25th consecutive Derby appearance with former club star Siphiwe Tshabalala holding the current record for most #SowetoDerby appearances, having featured in 31 consecutive clashes against Orlando Pirates. #AbsaPrem pic.twitter.com/sWYHLeiloL

— Lance Janari (@UrbanWarriorSA) November 8, 2019
#TheLastSowetoDerby2019 must end with a bang between these two #SowetoDerby ☠️✌️ pic.twitter.com/ySyKHpk54f

— Thembi® (@ThembiNdw) November 8, 2019
MAKUNYIWE!!!!!!!!! #SowetoDerby #OnceAlways ☠ We tired but we continue... pic.twitter.com/vwO53qc2Vh

— ●▪︎MÀÝÀÑĢÀ▪︎● (@Mdange_KaTshiw) November 8, 2019
@MikeMakaab if I'm not interested in watching the Soweto Derby tomorrow, where would you recommend I go? Preferably where it's quiet and no signal... I want to count my blessings and appreciate the little I have - one has to reflect. CC: @SimthoDladla pic.twitter.com/MLOcDxAkY5

— Gift Nkosi (@Giftyzar) November 8, 2019
The soccer calendar only recognize #SowetoDerby this weekend. The other matches don't really matter, lets be honest hey.

— Alex ™ (@AlexSithole) November 8, 2019
Could this be the luck . @orlandopirates
need ahead of the #SowetoDerby tomorrow afternoon? #DiskiYethu pic.twitter.com/lMTsSiEAwN

— Diski Yethu (@DiskiYethu) November 8, 2019
Lol Some sundowns fans are mad because #SowetoDerby is not trending.
😂😂😂😂😂😂

— Rhulani Mokwena Stan Account (@Sir_M_Charles) November 8, 2019
If Castro is starting then expect a goal from him. He often scores against those of Service Delivery FC #SowetoDerby

— Alex ™ (@AlexSithole) November 8, 2019
let's wear white(away kit)...i promise y'all a win......in honour of Mzansis Favourite Couple #SowetoDerby #OnceAlways #Pirates #KFCProposal pic.twitter.com/syYKO7n4e2

— M I C A Y L A for IDOLS WIN♥🔴🔥 (@jasonmlangenii) November 8, 2019
I was very pleased to see #KaizerChiefs making 8 changes against #ChippaUnited on Wednesday. It's very safe to collect maximum points now rather wait and pressurized to yourself in the last minutes. Chiefs is doing great and they will beat #orlandopirates tomorrow #SowetoDerby

— Mickey Maraba (@marabamickey3) November 8, 2019
The couple are @KaizerChiefs supporters. Let them sit to Kaizer Motaung at the Soweto Derby leadership pic.twitter.com/uV1cY1Nnft

— Lazola Ndamase (@Lazola_Ndamase) November 8, 2019
Ziyech showcases The Buccaneer sign ahead of #SowetoDerby @orlandopirates https://t.co/BaXCEbqKj3

— M I C A Y L A for IDOLS WIN♥🔴🔥 (@jasonmlangenii) November 8, 2019
What we know is that everybody who is tweeting about the wedding today, will be watching the Soweto Derby tomorrow including YOURSELF https://t.co/J5MyrP0qY9

— ●▪︎MÀÝÀÑĢÀ▪︎● (@Mdange_KaTshiw) November 8, 2019
As part of their CSI @Springboks paid a visit to" @orlandopirates Home of the losers" to motivate them ahead to tomorrow's Soweto Derby. pic.twitter.com/QpGWiFsvoG

— Dennyboy Madiro (@dennyboymadiro) November 8, 2019