PSL
Vincent Kobola: Orlando Pirates must expect tough Nedbank Cup match against Cape Town City
South Africa Chief Editor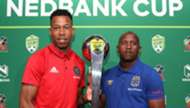 Defender Vincent Kobola expects Cape Town City to give Orlando Pirates a good run for their money when the two sides clash in the Last 16 of the Nedbank Cup.
"We are going to give them a hard time, especially because they are coming to Cape Town. We have a good record at home; we really want to reach the quarter-finals," Kobola told reporters. 
Asked to share his thoughts on Benni McCarthy's personality, Kobola admitted that the former Bafana Bafana man is a bit emotional at times, but he said as players, they have learned to accept his character and understand the kind of person he is. 
However, he feels McCarthy will get better as he grows in the coaching circles.
Kobola further revealed that McCarthy is overprotective towards his players, and he said everyone in the team enjoys working with the former FC Porto marksman. 
"We are used to Benni sometimes. We understand he's still new in this coaching stuff. So, sometimes he gets emotional, but we don't blame him; we are used to him. Even [when he is] shouting at us at training, but he's shouting at us to make good decisions," he said. 
"He sometimes tells us to go and play, and if we're not doing what he told us, he gets frustrated. So, we can't blame him, but as a coach, he speaks to us and he apologises," he said. 
"He is overprotective as a coach. We sometimes don't want a coach to fight with referees because they are sometimes controlling the game. He has to learn, even if he has frustrated you must just keep quiet and relax. He [Benni] is a fighter," added Kobola.
"He is training with us. He is singing with us and he sometimes showers with us. We are one big family. There's no one saying it's boys from Cape Town or boys from Joburg. We are just one big family we doing everything together," he concluded.