Powerade
VIDEO: Our Borussia team was equal to Bayern - Mario Gotze's Dortmund evolution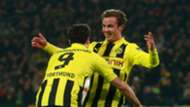 Bayern Munich have dominated the German football scene for a number of years now, but they were made to play second fiddle by Borussia Dortmund at the start of the decade.
Under the guidance of Jurgen Klopp, BVB reigned supreme for two seasons, winning two Bundesliga titles in 2011 and 2012 along with the DFB-Pokal, capped by a rampant 5-2 victory over Bayern in the final.
They were no match for their Bavarian rivals in terms of resources, but Mario Gotze, pivotal to the club's wildly successful spell under Klopp, believes Dortmund proved to be more than a match for them on the pitch.
"I think at the time I was with Dortmund, which was also during Jurgen's [Klopp] time there, we had a very good team and were definitely equals to Bayern Munich," Gotze said.
"We won the Bundesliga twice in those three years, we won the cup and played Bayern in the Champions League final. So, we certainly felt we were their equals and accepted the challenge that went with that, and we were equally hungry to win titles.
"And that's just what we did. It was such a very, very good time."