Sporting KC v New York RB
Sporting KC looks to lift another U.S. Open Cup trophy while Red Bulls seek their first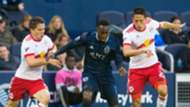 Sporting Kansas City's track record in championship games is one of the best in American soccer. Six finals played, five finals won, with three of the five trophies the club has secured having been lifted at home.
The New York Red Bulls, on the other hand, carry the distinction of being the only original MLS club to have never won one of American soccer's major finals — MLS Cup and U.S. Open Cup — having lost in both title games they have played in (the 2003 Open Cup final as the New York/New Jersey MetroStars and the 2008 MLS Cup final).
Those two disparate histories collide at Children's Mercy Park on Wednesday in the 2017 U.S. Open Cup final as Sporting KC looks to add to its legacy and the Red Bulls look to create one.
Jesse Marsch understands the importance of establishing a winning tradition with the Red Bulls. As a player, Marsch won two MLS Cup titles and four Open Cup crowns. Now, as New York coach, he has helped lead the Red Bulls to one of their two pieces of silverware, the 2015 Supporters' Shield — but winning a final remains something the team has yet to do.
That's something Marsch intends to change.
"When I first came to Red Bull, I was aware of the fact that the managers and many within the organization had not taken this competition that seriously," Marsch said of the Open Cup. "When you've won this tournament, as a player or a coach, you understand the value it has and appreciate what it means. When I came here, this was going to be something that we emphasized."
Peter Vermes has also emphasized the Open Cup during his time as Sporting KC coach, having led the team to the 2012 and 2015 titles. The nucleus of those championship teams remains today, with Graham Zusi and Matt Besler among the players who have winner's medals in their collection. That experience should give Sporting KC an edge Wednesday, but Vermes is quick to state that it doesn't guarantee a thing.
"Experience is great only if you know how to use it. If you don't know how to use it, it doesn't mean anything," Vermes said. "And so the fact we've played in a couple of these, as long as we know how to use the experience and we gain from it? Great. But if we don't, it really doesn't matter."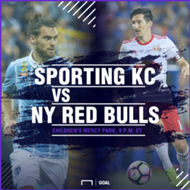 Sporting KC enters the final as the favorite, in part because of the team's dominant home record. One of only two MLS teams unbeaten at home — Toronto FC being the other — Sporting KC enjoys a raucous advantage. The Red Bulls lost in their trip to Kansas City earlier this season — a 2-0 defeat on May 3 — but did manage to go unbeaten at the venue formerly known as Sporting Park in 2014 and 2015, posting a 1-0-2 record.
"I think it makes for a great final," Bradley Wright-Phillips said of the final being at what is expected to be a sold-out Children's Mercy Park. "We'd rather being playing (at Red Bull Arena) but playing there it'll make for a great final. It'll be electric."
The final is setting up to be a more open and fast-paced clash than your typical conservatively played finals because of the aggressive high-pressing styles both teams employ. Sporting KC is known for going after opponents in the attack when at home, while the Red Bulls play their proactive style of soccer at home and on the road.
"I think the game will be fast paced," Vermes told reporters Tuesday. "If you look at both teams and the way they play, I think there'll be a good pace to the game. But I also think at some point the game will settle in, and then all of a sudden your play starts to come out and both teams will start dealing with the game, based on where it is and how teams are playing."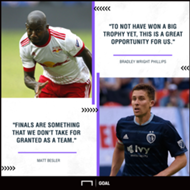 "It will definitely be two styles of play that contradict each other because we both kind of play similar styles," Red Bulls midfielder Tyler Adams told Goal. "They're one of the other teams in the league that likes to press, likes to get after the ball, and quickly try to counter. With five in the back, that gives us a little bit more security, more than usual. They have some good forwards, even getting rid of [Dom] Dwyer now. They may have lost that combative side of the ball, but they have guys who can still score goals."
The Red Bulls will look to use their fluid 5-4-1 system to neutralize Sporting KC's fast-paced 4-3-3 setup that has relied more on its midfield creators and speedy wide players since the team traded Dwyer to Orlando City. A system that can morph from a 3-6-1 to a 5-4-1, with players interchanging positionally, the Red Bulls' new approach will offer a good test to Sporting KC's creative players.
"We know that if we lock down their midfield — which they have three good guys in the midfield, that's kind of the key to their team and unlocking teams — we can slow them down," Adams said. "I think now that we have a lot of numbers in there it's good for us."
Keeping Sporting KC from lifting another trophy at home will be no easy task for the Red Bulls, but the opportunity to make history for the club will serve as plenty of motivation for a team carrying the weight of its underwhelming history.
"It's everything. It's why we're in this business," Wright-Phillips said of what winning the Open Cup would mean. "You take away money and everything else. Everyone wants to lift a trophy, that proves you're a good team. You put your name in history. For everyone at the club it would be massive. To not have won a big trophy yet, this is a great opportunity for us."