New York RB
U.S. midfielder Adams leaves Red Bulls win in Atlanta with knee injury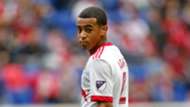 Tyler Adams walked off the field at Mercedes-Benz Stadium on Sunday night with a worried look on his face. He went straight to the bench and put his hands over his head, clearly worried about his right knee, which he injured during the New York Red Bulls' 3-1 win against Atlanta United.
Adams was forced out of the match in the 79th minute after feeling pain in his knee. He left the game during a prolonged delay in action caused when Kemar Lawrence went down with an unidentified injury that required him to be taken off on a stretcher with his neck immobilized.
With all medical personnel attending to Lawrence, Red Bulls coach Jesse Marsch took it upon himself to put together an ice bag to put on Adams' knee as he sat on the bench.
"His knee just started to swell a little bit," Marsch told reporters after the match. "It felt fine, but again, we wanted to be precautionary and make sure that we weren't stressing anything."
Marsch sounded confident that Adams' injury wasn't serious, which will bring a sigh of relief to Red Bulls and U.S. national team fans.
"They've done a bunch of tests and they feel like it's strong and healthy. He feels fine," Marsch said. "It was just weird to have a little bit of swelling. It could be the turf, it could be a lot of things. We're hopeful that he's fine."
Adams had been playing a solid match for the Red Bulls, helping shadow Atlanta United playmaker Miguel Almiron in an exciting 3-1 victory, the Red Bulls' fourth straight win.
The 19-year-old had been expected to join the U.S. national team for its friendlies in Europe against Ireland and France in June, but his status remains questionable until his right knee is further evaluated.
Adams' injury was overshadowed by the scary scenes of Lawrence leaving Mercedes-Benz Stadium on a stretcher after falling hard on the ground while attempting to clear a ball away.
Lawrence was transported to a local hospital, where he was being evaluated. Marsch sounded hopeful that the measures taken to transport Lawrence were precautionary, and the Jamaican defender had not suffered a serious injury.
"We're hopeful that everything's OK," Marsch said. "I'm going to go see him right now. He's actually at the hospital, so I'm just going to go see him right now and make sure that he's OK."
"We're getting word that we're hopeful that everything's going to be alright," Marsch added. "I think it's precautionary.
"i think everything that happened out there on the field, and everything about taking him to the hospital is purely precautionary, so I think everybody wants to make sure he's OK."