KPL
Ulinzi Stars defender explains how it felt to score winning goal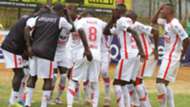 With less than three minutes to full time, Ulinzi Stars fans were anxious as their side was pushing for a winner against Nakumatt.
The two teams were tied at 1-1, it seemed spoils were going to be shared, then Omar Mbongi happened to pop up! His bullet header went past Sammy Okinda, and the soldiers registered maximum points, and moved joint top of the table. The delighted Mbongi explains to Goal the feeling after hitting the winner.
"Well, before the game I could not imagine that the goal will come from me considering the fact that I am a defender. But when the opportunity came, I decided to take the chance; I chose my spot and powerfully headed the ball, fortunately the goalkeeper was not in the right position and their it was!
"Definitely I felt happy, was really delighted winning the three points for my team. We needed them, but again without the team, it could not have happened."
The soldiers have two weeks to rest before their next league fixture against Nzoia Sugar.