NPFL
Tukur Babaginda explains Junior Lokosa's failed trails in Europe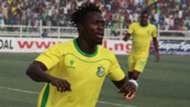 Kano Pillars' chairman Tukur Babangida has revealed that team has no influence in it striker Junior Lokosa's trails in Europe, saying it is between him and his agent.
The 24-year-old, who has taken the Nigerian topflight by the storm this season, netting 19 goals in 21 games  - five away from equalling Mfon Udoh's record for the Sai Masu Gida.
Following his stunning scoring form, the forward has twice embarked on trails - first with Bulgaria's Ludogorets in May before his recent trip of Norway for Brann - both failed to go through.
While justifying Lokosa and players' desperate move to Europe, the administrator blamed the influence of agents,  poor structures in Nigeria plus financial gains for the mass exodus.
"All Nigerian players want to go to Europe, don't they? Any Nigerian player that has a chance will want to move because Europe is more organised than Nigeria," Babangida told Goal.
"All players in Kano Pillars are taken care of, their salaries are promptly paid but regardless of this, players still want to move to Europe and even North Africa.
"Agents and those benefiting from him will see this as an opportunity for him to go [to Europe]. If we lose that opportunity, we may not get another one."
Despite keen to see Lokosa break Udoh's record this season, Babangida admits that a successful move abroad for a want-away striker will be a huge bargain for Pillars.

"We would love him to stay and break the [Udoh's] record but we are not the ones to determine his future. It is him and his agent," he continued.
"I am not worried. We are playing professional football and professional football is business. We nurture players and sell them so I'm not worried. If he travels, I will be happy.
"Ahmed Musa was a Kano Pillars player and see what he is doing in Europe and the Super Eagles. I will love to see Lokosa that way.
"Lokosa leaving won't be a loss but again for the club because we will make money off him and it will also project our image as a club because it will be on record Lokosa played for Kano Pillars."