Transfers
Transfer saga looms as Sundowns appear reluctant to sell Percy Tau to Brighton & Hove Albion
South Africa Chief Editor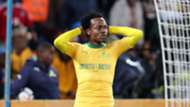 Percy Tau is reportedly begging Mamelodi Sundowns to allow him to go overseas after receiving several offers in recent months. 
According to Sunday Times, English Premier League side Brighton & Hove Albion have submitted three written offers for the services of Tau, with the latest offer, believed to be in the region of R34 million, submitted last week Thursday. 
However, the Brazilians appear reluctant to sell the 24-year-old, and this hasn't gone down well with Tau and his agent.
In an interview with the publication, Mmatsatsi Sefalafala revealed how Sundowns have been sending them from pillar to post regarding Brighton & Hove Albion's offer for Tau. 
She went further to explain how Tau hasn't heard from Sundowns president Patrice Motsepe despite several attempts to get his attention and intervention on the matter.
According to Sunday Times, Tau turned down the opportunity to go and watch the Fifa World Cup in Russia with some members of the team as he feels his future hasn't been prioritized enough. 
It is reported that Tau isn't in 'good space' to join the club's pre-season training which starts on Monday. 
"We've had several meetings with Sundowns and two of them included the president (Motsepe). Around March, I was contacted by Brighton and we started engaging," Sefalafala said.
"Percy was very excited. We agreed that we will break the news to Sundowns after the Barcelona game. Brighton prepared an offer and I sent the offer to Yogesh [Singh] via email," she revealed.
According to Sefalafala, Singh said, "'significantly improve your offer because I won't even take this to the board'," continued Sefalafala.
"Brighton increased it to £2-million plus a 7.5% sell-on. Sundowns said increase the offer significantly. On the other hand, Pitso is busy in the media saying these English teams must not think we are in Burundi," she hit out at Pitso Mosimane. 
Tau's agent said Sundowns are demanding £4 million, of which £2 million will be payable immediately and £2m payable in 2019 with no sell-on in order to release Tau.
"Their latest offer is £2,5m, with £2,2m payable immediately and £300 000 payable next year in June, plus a 5% sell-on. This revised offer was sent to Downs on Thursday night last week," she explained. 
"Last Saturday Tau sent Motsepe a text message requesting the president to, 'Please help me, I need your assistance, in January we spoke about this, you said if we get an opportunity we will talk'. He has not responded until today. Usually, when Percy texts him, he responds immediately. This time around he went quiet. I then received a message from Brighton to say Sundowns have responded and have not moved on the four million," said Sefalafala.
"This opportunity is hanging by a thread. The sad part is that we have it in black and white that if a bona fide offer comes which the player wishes to accept, both parties, in good faith, shall engage one another in that regard," she confirmed. 
In January this year, reports emerged that Danish side FC Midtjylland, FC Rostov and Dynamo Moscow tabled offers for the speedy attacker, and Sefalafala confirmed that they made Sundowns.
However, the Tshwane giants dragged their feet until the mid-season transfer window closed, and instead, they wanted Tau to renew his contract with them. 
Tau's current deal with the Tshwane giants will expire in June 2019, and should the club decide against selling him now, they would be running the risk of losing him for free.   
"We started engaging and Percy was really keen to go at the time. We had several meetings with Sundowns, two of which included the president himself. Their plan was to get Percy to renew, but we were not keen on doing that. From past experiences, certain players have had problems to go overseas after having renewed, so we did not want to be locked in a long-term contract," said Sefalafala. 
"The president, in his words, said: 'We see your value, we see you playing in the top five leagues. If you guys get teams from a top-five league we will consider it. Percy was so highly emotional that at some point he requested to be excused from the meeting. He was crying," she said. 
Rostov is believed to have offered $1 million to lure Tau away from Sundowns.
"The transfer window closed. We just comforted Percy and told him to focus on maintaining his performance and persevere," concluded Sefalafala. 
In January 2017, Keagan Dolly had to fight tooth and nail to secure a move abroad as Sundowns didn't want to accept Montpellier's offer for his services.