Liga MX
Top teams show blemishes, relegation battlers get boost and more from Liga MX Round 16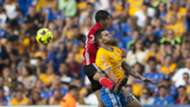 What a week.
This weekend saw teams out of the playoff race playing spoiler, teams still in the race falling flat and teams fighting for survival deliver performances their managers had been looking for during the previous 15 weeks. Oh, there was also a goal from a goalkeeper, one from the halfway mark and all sorts of other moments to put a smile on the face of any football fan.
McCarty, Fire can't top Red Bulls in reunion
Let's dive right in and take a look at what to take away from a phenomenal round of Liga MX action ...
---
Top teams all have blemishes
---

All tournament, we've sort of been looking around and trying to figure out if any team is good. Like, really good. Like, going to be the top seed in the Liguilla and run the table and lift the title good. And each week, it has seemed the answer is a loud, resounding, "No."
This week we got one of the biggest rebukes of all. Maybe the fact we were still wondering if someone would pull away at this late stage of the regular season makes us like Hernan Cristante. "You leave with the feeling of, 'I'm an idiot,'" the Toluca coach said after a match that saw his team practically spit in the face of the chance to go top of the table.
Instead, with the Argentine frustrated with how he used his substitutions and how he attempted to pay tribute to the retiring Sinha in his final home game before the postseason, Toluca lost to Queretaro 2-1 thanks to a stunning goal from Camilo (see goal of the week below) and a second from the Brazilian. Those goals, combined with a penalty saved by Gallos Blancos goalkeeper Tiago Volpi, kept the Red Devils from entering the final weekend as the superlider.
He's surely not the only manager feeling a bit foolish after this penultimate round of matches. Monterrey coach Antonio Mohamed was riding high after a rivalry win and, albeit without two attacking stars, went to Veracruz and became the latest victim of the (now ex-)relegation candidate. Tijuana actually is on top, but was trounced 3-0 by Tigres. And while Chivas managed a draw, the stalemate with Leon marked four weeks running without a victory.
"We won a championship a week ago. The team is used to winning. It's a winning team," said Chivas coach Matias Almeyda, referring to the Copa MX title. "We're two points away from the leader. Yes, our performance has diminished a bit because of injuries or fatigue, but there's a clear idea."
Even so, we saw each teams' weaknesses this week, blemishes exposed that mean that this could be one of the most even tournaments in recent memory. 
---
Road to title may go through Guadalajara 
---

It looks like the title, or at least the road through it, could go through Guadalajara — and not necessarily like you might think it would.
Chivas are formidable, but Atlas, the team still playing in the Estadio Jalisco, which the teams shared until Chivas moved out in 2010, has quietly been excellent in the past several weeks. Los Zorros extended their unbeaten run to six matches with a 2-1 victory over America. 
RUMORS: Man City targeting Keylor?
What's more, Atlas has lost just once at home this season, and that defeat came against Chivas in an atmosphere that felt more like a neutral site final with half the stadium supporting each side. Even after that match, there was frustration from fans who had gone two long years without seeing their team in the postseason. Now, Atlas is back and the fans are behind the club.
"We've recovered our fans, we have a romance with them. We're the second-ranked team in attendance, and that speaks to the commitment we have to them," Atlas coach Jose "Profe" Cruz said after the win over America.
Chivas, similarly, have lost just once at home. If both teams can secure top-four finishes — and they each could do so with victories on the final matchday — it's clear Tapatios will be seeing plenty of Liguilla matches.
---
Superheroes emerge for relegation candidates
---

Veracruz, Chiapas and Morelia entered the weekend like Bonnie Tyler. They needed a hero, one who is fast, strong and fresh from the fight. OK, at least the first two.
And in two cases, they got one. In the other, well, Chiapas now sit at the bottom of the relegation table.
Veracruz managed to find a second victory in as many weeks, first topping Pumas and seeing off a talented Monterrey side Friday to reach safety. OK, to be pedantic, Veracruz could lose next week and Chiapas could win by some score that results in Jaguares making up 12 goals of difference, and if Morelia also won then Veracruz would still go down.
But the team has to be feeling pretty good that isn't going to happen. In both matches, Jesus Paganoni played well at right back, getting forward to cause the defense problems. Egidio Arevalo Rios scored the winner against Monterrey and along with Cristian Pellerano has beefed up the midfield. It's what the Tiburones Rojos needed to stay in the first division.
And for Morelia, the hero was clear. Raul Ruidiaz returned from injury and scored three goals in a 4-0 romp over Pumas that has Monarcas in much better position ahead of Round 17's difficult trip to Monterrey.
"It was a marvelous night because of the goals, because I was able to support the team," he said after the match. "We played with heart and we showed that and our commitment and determination on the field."
Monarcas boss Roberto Hernandez cautioned against thinking their spot in the first division is secure, but with a player like Ruidiaz back the team will feel much better.
---
Previous finalists may just scrape by
---

Tigres and Club America have become fixtures in finals. Last year, they fought for two trophies, with America lifting the CONCACAF Champions League and Tigres winning the Apertura. This tournament hasn't gone as planned for either. While America started poorly, then found its footing, back-to-back losses mean their place in the Liguilla still is not secure.
The reigning champion had a much better weekend, bouncing back from another defeat in the CCl final (this time to Pachuca) with a 3-0 win over Tijuana.
Portland still potent despite Valeri absence
"Obviously the mood isn't great, but we're professionals and we have to turn the page quickly," midfielder Lucas Zelarayan said after the victory. "Today the team showed that it has character, that in the bad times we unite and pull in the same direction."
America and Tigres sit seventh and eighth, with the Mexico City side hosting fellow playoff hopeful Pachuca and Tigres traveling to Queretaro to close out the season. Their destiny is in their own hands, and despite all the difficulties this tournament, it's tough to imagine a situation that sees both miss out. Look for one or both to sneak in and take their talented squads into the Liguilla as an undesirable opponent for a team that has been better in the regular season.
---
El Conejo is eternal
---

Everything is pointing toward getting another season from Oscar "El Conejo" Perez, and what a joy it will be for fans of the sport. The 44-year-old goalkeeper is one of the game's gentlemen and has been crucial for Pachuca not only with his shot-stopping skills but also with his leadership for a team that thrives on bringing along young players quickly.
And, as he showed with his goal against former club Cruz Azul on Saturday, he has a way of coming up big in the right moments. Even as Alfonso Blanco starts to see more and more minutes for Tuzos, Perez is hardly easy to put a shot past and reads the game with the wisdom that he's worked to acquire since his first professional game in 1993.
"The team always has stood out for this, not giving up, and today we showed that same thing," Perez told reporters.
The goal not only is a novelty, but it's one that Pachuca needed. Not just does the newly crowned CONCACAF Champions League winner keep its long undefeated streak at the Estadio Hidalgo in tact, but its playoff hopes are still alive. Tuzos still need a win and some help from other teams, but it's better than the nearly impossible situation a loss would've put them in. 
---
Goal of the Week
---
Conejo's goal was cool. This was amazing. There's no doubt. Camilo's stunner from midfield is the Goal of the Week.
Not only is the strike incredible, but it wasn't all that easy for him to win the ball. Once he does win it, there's no doubt in his mind what he's going to do with it.
---
Weekly Whimsy
---
Conejo scored a goal. What more do y'all want?
Fine! Staying in Pachuca, their social media team had a bit of fun with Cruz Azul's habit of blocking reporters and others who may be saying things contrary to what they want to hear. "Just in case, I already made sure that our opponent doesn't apply (the block), at least for today," the club tweeted.
Pues por si las moscas, ya me aseguré que no nos la aplique nuestro rival, al menos por hoy   pic.twitter.com/ZOaEyfTvCq

— Club Pachuca (@Tuzos) April 29, 2017