Terengganu II
Titans to submit complaint letter to FMLLP on poor officiating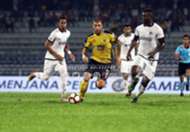 ---
 BY       OOI KIN FAI      Follow on Twitter
---
Fresh from the disappointment of conceding a late penalty that saw Perak equalising in the fourth minute of injury time, T-Team intends to submit a complaint letter to the Football Malaysia Limited Liability Partnership (FMLLP). 
The letter will comprise of T-Team's dissatisfaction over how the Super League match was officiated. The referee in charge at Perak Stadium on Saturday was Mohammad Zamzaidi Katimin who was assisted by Mohd Shahreen Che Omar and Azmi Khalid. 
T-Team are over what they perceived as unfair or wrong calls made by the officials, particularly pertaining to several penalty claims to them that weren't awarded. They are also unhappy as to the length of time the match was allowed to be played, although the technical terms of added time has always been referenced to as the minimum amount added on.
Speaking to the match commissioner after the completion of the match, Goal understands that a report of T-Team players encroaching the field of play after the award of the injury time penalty to Perak will be submitted and the Titans are likely to be punished for their actions.
Since taking over as the new president of Football Association of Malaysia (FAM), HRH Tunku Ismail Sultan Ibrahim has vowed to improve the standard of refereeing as one of his main targets to be achieved during the course of his presidency.
With the Video Assistant Referee (VAR) expected to be used in Malaysia in the near future, plans are already in motion to give the officials the help they need.