Arsenal
Time to get physical: Lacazette can be a Premier League star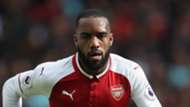 It took Alexandre Lacazette just two minutes to announce himself to the Premier League, scoring on his Arsenal debut against Leicester at Emirates Stadium. The deft header from Mohamed Elneny's cross provided a glimpse of what most supporters would have been expecting over the coming games from their record signing.
At a total of £52million, Lacazette represents the priciest outlay of any Arsenal purchase in their entire history - and with the huge price tag comes weighty expectations.
10/3 for Bate and Arsenal draw
The 26-year-old's second goal for the Gunners came in a 3-0 win against Bournemouth and he should have arguably had a third in the recent defeat to Stoke where his goal was adjudged to be offside. Regardless of the small print, Lacazette's positioning in the final third and ability to find the back of the net from a range of positions makes him a different proposition for Premier League defenders.
"Yes, I believe that he has adapted to the team play, to the way we want to play football," said Arsenal boss Arsene Wenger. "He connects well with the other players, he's disciplined, he works hard for the team. On the tactical and technical aspects I'm very pleased.
"He still needs to adapt to the physical aspects of the Premier League and that will take maybe a little bit of time.
"But overall on the other fronts there is no problem at all. I'm very happy."

Danny Welbeck has been favoured by Wenger this season for his ability to attack the space when Alexis Sanchez and Mesut Ozil have the ball. His mutual understanding between the star players and physically imposing frame make him a difficult man to stop in full flow, and that is perhaps the main reason Lacazette has struggled to get a run of starts in the league this season.
Adapting to the physical element of the Premier League is the biggest challenge of Lacazette's adaption period in England. Chelsea's Alvaro Morata, a fellow newcomer this season to English football, has four goals and two assists in his first six Premier League games - prompting many to question why the French striker hasn't been able to hit the same heights so far after his electrifying debut.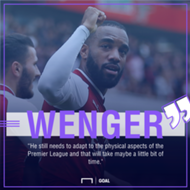 It's clear that Morata and Lacazette are two very different players. Morata is much more of a target man and while he can hold the ball up fantastically, Lacazette's strength lies in his link-up play and tendency to chase down opposition defenders rather than his physcial prowess.
Those skills are are a huge advantage for Arsenal who have found it hard to find a consistently clinical frontman since the days of Eduardo da Silva and Robin van Persie. But the fear he may be too 'lightweight' for England nevertheless persists.

Manchester United Jose Mourinho reportedly overlooked signing Lacazette due to doubts over his 'big-game mentality' and 'suitability' for the Premier League. In his opening games it has been clear that the biggest failing in the Frenchman's game is that bulky central defenders are able to outmuscle him off the ball.

Ozil had a similar problem when he first arrived in England but reaped the rewards of extra gym work at London Colney, putting on a considerable amount of muscle. If Lacazette wants to contribute the kind of goal tally expected of him then he will need to show the dynamism required to adapt to the most physically demanding league in the world. Arsenal legend David Seaman is one individual still yet to be wholly convinced.
"It will be difficult for him to get used to the Premier League," Seaman told Goal. "A lot of new signings find it difficult to settle because they don't realise how fast and how physical it is, and how fast the games come round.
"Sometimes you're playing two or three times a week. He will get used to it – from what I've seen he does look quality. People said he reminds them of Ian Wright, but he has to score a few more goals to remind me of him!"
Those Wright comparisons are an example of the high expectations many are pinning on Lacazette. This is the biggest move of his career and, for someone who has spent his entire career at Lyon, it provides a unique and somewhat daunting challenge in a league which exposes even the best players' weaknesses very quickly.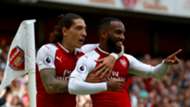 "We have to give him time," ex-Arsenal and France defender William Gallas told Goal. Gallas knows exactly how hard the transition to the Premier League can be from his successful spells with the Gunners and Chelsea, and pleaded for patience with his compatriot.
"Sometimes it's not easy to change country, you have to speak another language. It's not easy to settle very quick. I know in football everything is about results so if he doesn't score many goals people will judge him straight away. We have to give him two years to see what he can do."
"What we know in the Premier League is very physical," he said. "Every game you gave to be ready. It's a question everybody needs to ask themselves, if Lacazette will be good for that league. I don't know. In France he was a great, great player. He scored so many goals. Now he's in the Premier League it will be a different league, a new challenge for him. We have to wish him all the best and to see if he will settle very well."
Great players in France have not always hit it off in the Premier League. Radamel Falcao and Mario Balotelli are both considered 'flops' but their record in Ligue 1 shows that English clubs were right to take a punt on them. Whether Lacazette can become the man to grab 25 goals a season remains to be seen, but early signs suggest he has the majority all the tools necessary to succeed.

He has the touch, the work ethic, the technical ability and knows how to finish. The only thing missing from Lacazette's game, that physical edge in the area, won't take him long to improve on and perhaps those Wright comparisons will start to come to fruition as the season gets into full gear.
He cost £52m for a reason, and it will not be long before Arsenal's record club signing starts to throw his weight around and show the Premier League what he is made of.