Australia
Throwback Thursday: Socceroos' record-breaking night against American Samoa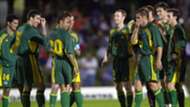 It was a result that defied all football logic, but the Socceroos smashed international records back on April 11, 2001 by beating American Samoa 31-0. 
And no, that's not a typo. In fact, the scoreboard on the night actually showed 32-0 only for FIFA to overrule it after conferring with match officials.
Still stuck in Oceania World Cup qualifying, the Socceroos took to the field against the then lowest ranked football nation in the world. 
If that wasn't enough of an edge, American Samoa with a population of 65,000 at the time, then had their whole first team, except for an ultimately unlucky keeper, banned from the game for not having US passports.
With a number of U20's also ruled out due to pending exams, the coach Tunoa Lui turned to two 15-year-olds and formed a team with an average age of 19.
The 31-0 scoreline was thus all but inevitable with the Socceroos showing no mercy as they sent a clear message that they were outgrowing Oceania. 
Having posted a record 22-0 scoreline against Tonga the game prior, the green and gold bested their own record for most goals in an international match by some margin scoring roughly every three minutes. 
A then 22-year-old Archie Thompson bagged 13 of those goals in Coffs Harbour to set a personal record for most goals by a player in an international match. 
"Breaking the world record is a dream come true," Thompson said at the time. 
"But you have to look at the teams we're playing and ask questions. We don't need to play these games. It's really a waste of time. 
"Their players were laughing at the end. There wasn't much more they could do. I think their one attack consisted of getting over the halfway line."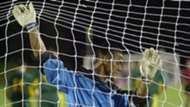 For the record, American Samoa did have one shot on target against a Socceroos side without Harry Kewell, Mark Viduka or John Aloisi.
Prior to the record-breaking defeat, coach Liu admitted it was going to be a learning experience and called for some divine intervention.
"We are here to learn. We have had a lot of problems but we don't give up," Lui said before the 31-0 loss. 
"We are asking the Lord to help keep the score down."
Perhaps the fact it stands as 31-0 and not 32-0, means someone above really was listening after all...
Check out all the mayhem below