African All Stars
The Premier League 'is completely different' - Brighton and Hove Albion's Bong talks down English Championship comparison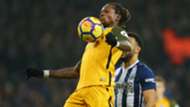 Having played in the top two English football divisions, Brighton and Hove Albion's Gaetan Bong believes the Premier League is far superior to the Championship.
Bong played 24 times in the second tier as the Seagulls secured promotion to the top-flight ahead of the 2017-18 season. 
The Cameroon left-back has already tasted Premier League action 15 times so far this term and reckons the need for adaptation and, also, finding 'a way to be better' so as to be able to compete with the many 'quality players'.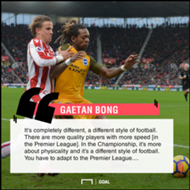 "It's completely different, a different style of football. There are more quality players with more speed [in the Premier League]," Bong told club website.
"In the Championship, it's more about physicality and it's a different style of football. You have to adapt to the Premier League and there are not a lot of players who can do it.
"You can't just play the same as you did in the Championship in the Premier League, you have to change and find a way to be better, both for yourself and the team."
Going by results and where they stand in the log, Brighton have adapted well to the rigours of the English top-flight, with Saturday's 4-1 triumph over Swansea City placing them in 12th position. 
And Bong who recently penned a contract extension till the end of next season said although they learn every game, they could have as well done better.
"We're doing well but I'm also confident that we can do better. We have good-quality players and there's been a lot of games that we've drawn when we really could have won.
"But we're learning every game and that's why I'm glad to sign this new contract, because I want to keep working with the boys and the manager as well.
"We have to be confident. We've had some positive victories recently and have started to score goals and win games again.
"But we know it's going to be hard. We still have ten games and they're going to be ten difficult games. It's not going to be easy because no team wants to give up," he concluded.