Barcelona
The Contenders: Barcelona's UEFA Champions League highlights so far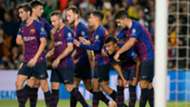 Spanish giants Barcelona have largely met expectations by reaching the knockout stages of the UEFA Champions League.
The Blaugrana topped a tough group containing the likes of Tottenham Hotspur, Inter Milan and PSV Eindhoven to set up a tasty Round of 16 fixture against Olympique Lyonnais.
Ernesto Valverde's side were unbeaten through the group stages and will be one of the favourites to win the tournament yet again.
Barca started with a 4-0 thumping of PSV before defeating the likes of Inter Milan and Tottenham Hotspur convincingly. A draw against Inter Milan was followed by another defeat of PSV and that was enough to put them in charge of the group. A 1-1 draw against Tottenham Hotspur on the final matchday was academical for the Camp Nou-based side.
The likes of Lionel Messi and Ousmane Dembele have all been impressive for the team in their march to the Round of 16.
Watch all their best plays so far here.