A-League
'That's just football' — Georgievski laments A-League grand final loss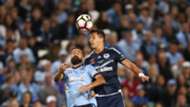 Melbourne Victory full-back Daniel Georgievski may have been a surprising Joe Marston medallist for some as the best player in the A-League grand final, but coach Kevin Muscat labelled him "outstanding".
Georgievski became the fourth player in 12 A-League grand finals to win the Joe Marston Medal despite being part of the losing side, and Muscat argued the fact his direct opponent Filip Holosko was the first player taken off at Allianz Stadium showed the defender's quality.
Sydney FC deserving title winners
Holosko was replaced before the hour mark on Sunday as Sydney chased an equaliser, and David Carney came on to help set up Rhyan Grant's 69th-minute strike.
While Sydney went on to claim the championship via a penalty shootout, Muscat was full of praise for Georgievski.
"He was outstanding. If you look at us last week [in Victory's semi-final win over Brisbane Roar], I think our defensive intensity and our defensive structure gave us a platform to go on and win that game, and it was no different tonight," Muscat said at his post-match press conference.
"Danny was part of that where Holosko didn't really get any change out of him whatsoever."
Asked about the medal, Georgievski said: "I would have preferred the win, to tell you the truth."
The 29-year-old played his last game for Victory in the grand final as he will join Newcastle Jets next season.
"It's a good feeling and a bad feeling. I think it's more bad that we didn't win," he said.
"I think my feeling right now is more… not disappointment, proud to have been able to be involved in this club for three years. We won one [grand final] a few years back and now we lose on penalties, so that's just football."
Socceroos goalkeeper Mat Ryan was the first player to win a Joe Marston Medal despite losing a grand final in the A-League era when his Central Coast Mariners were trumped by Brisbane Roar on penalties in 2011.
A year later, Perth Glory midfielder Jacob Burns was named best on ground despite his side also losing to Brisbane, while in 2014, Iacopo La Rocca of Western Sydney Wanderers shared the award with Roar midfielder Thomas Broich as the Queensland-based club won their third championship.