Transfers
'Sven Mislintat told us Mavropanos would be his first Arsenal signing'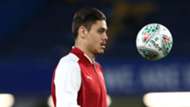 Arsenal's new head of recruitment Sven Mislintat told the president of Greek side PAS Giannina that Konstantinos Mavropanos would be his first signing for the Gunners – days before he officially started his new role at the club.
Mislintat joined Arsenal from Borussia Dortmund in November to replace outgoing chief scout Steve Rowley and was immediately tasked with helping secure the best young talent from around the world.
The German had already extensively scouted Mavropanos for the Bundesliga giants but was forced to close the deal for Arsenal due to advanced interest from Udinese, as Goal revealed at the start of January.
Mavropanos, 20, was expected to go straight out on loan to Werder Bremen but manager Arsene Wenger opted to keep the Greek youngster at the club until the end of the season after he impressed in his first week of training with the first team.
"Everything was done under extreme secrecy, and that was Arsenal's command," PAS president Giorgos Christovasilis told Gazzetta.gr.
"Sven Mislintat, who would take up his new role in Arsenal on January 1 and knew the player from his time at Dortmund, informed us just before Christmas that Konstantinos would be his first signing when he got a job in the team. 
"In fact, he had to finalise the deal earlier, since there was another suggestion on the table from an overseas team who was pushing to sign him. So he was forced to speed up proceedings and complete the deal. "
"The pressure of Udinese forced us to finish the deal quickly. The Italian team was pushing and Konstantinos wanted to know which team he would go to. We told him that until December 31 he would have to be patient and afterwards he would know the next stage in his career. On the 30th of December we got the call from Arsenal and we finished the deal in three days."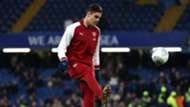 Several European clubs had monitored Mavropanos before he joined Arsenal, including Werder Bremen, Hamburg and RB Leipzig but it was the Gunners who made their interest known first before agreeing a €2.5million (£2.2m) deal to sign the centre back on a five-and-a-half-year contract.
Christovasilis confirmed the exclusive that Goal revealed at the start of the month that Mavropanos was Mislintat's signing, with the German playing an integral part in Arsenal's January business as former Dortmund duo Henrikh Mkhitaryan and Pierre Emerick Aubameyang are both set to join in the coming days.
"It was Mislintat's clear choice [to sign Mavropanos]," Christovasilis added. "Indeed, Wenger had stated that the player would go loan, but saw him in the training where Konstantinos impressed and decided to keep him at the club."