Super League
Tchetche and Rufino lead the Golden Boot charge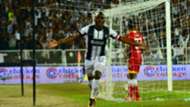 After three rounds of matches played, there are still another 19 more rounds of Super League action to go. From the 18 matches played thus far, a total of 45 goals have been scored by 32 different players from all 12 teams in the league.
It's still a very long way to go before we know who will be the ones truly contesting the golden boot or top scorer for the season. But at the moment, two strikers are leading the race - Selangor's Rufino Segovia and Terengganu FC's Tchetche Kipre.
Here is the full list of the chasing pack and those who have found the back of the net thus far.
4 - Rufino Segovia (SEL), Tchetche Kipre (TFC)
3 - Rafael Ramazotti (PKNS), Yahor Zubovich (MUFC)
2 - Syahmi Safari (SEL), Nicolas Velez (NS), Lee Tuck (TFC)
1 - Luciano Figueroa (JDT), Marcos Antonio (JDT), Pablo Pallares (KED), Qayyum Marjoni (PKNS), Rafael Ramazotti (PKNS), Keo Sokpheng (PKNP), Jeon Woo-young (MUFC), Bruno Silva (KEL), Do Dong-Hyun (KEL), Jorge Pereyra Diaz (JDT), Fadhli Shas (JDT) Natxo Insa (JDT), Safee Sali (PKNS), Gilmar Filho (PRK), Robert Cornthwaith (PRK), Nazirul Naim (PRK), Tiago Gomes (MUFC), Shahrul Aizad (TFC), Amri Yahyah (SEL), Forkey Doe (PAH), Mohamadou Sumareh (PAH),  Nor Aam Azih (PAH), Paulo Josue (KL), Akhyar Rashid (KED), R. Gopinathan (MUFC)