AIFF Super Cup
Super Cup: Sunil Chhetri hails 'unbelievable, great' Bengaluru FC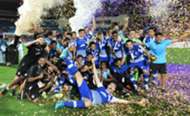 Bengaluru FC skipper Sunil Chhetri expressed his delight at securing the club's fifth trophy in as many years after the Blues thrashed East Bengal 4-1 in the final of the 2018 Super Cup in Bhubaneswar on Friday. 
The Indian national team forward heaped praise on his teammates and head coach Albert Roca for their efforts throughout the season.
"I am very pleased, really happy for the win. Throughout the season, we have been dominant and played positive football. It is really satisfying to get a trophy at the end it. I think we deserved it and I am so happy," spoke a delighted Chhetri.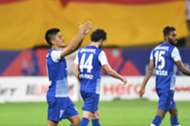 He added, "It is never easy, it is never guaranteed. It just shows, five years and five trophies, it is an unbelievable feat and we want to continue it.
"We are a club that always wants to improve. We have a great coach who always demands that we give everything in training and in matches. Bengaluru are an unbelievable team. It is a great team. Everyone wants to help everyone."
He also said that he has no issues with losing out on the ISL title due to the playoff format. "We knew we had to play the semi-final and the final and we did play them. We knew the format."
On a personal level, Sunil Chhetri managed to score six goals in the Super Cup including a hat-trick against NEROCA FC in the Round-of-16. He has once again ended the season as the club's top scorer with 22 goals in all competitions. 
"I am very happy that I wasn't injured and that I was available for selection and that is most important as a player," said Chhetri.