AIFF Super Cup
Super Cup: Bengaluru FC's Miku - East Bengal, Mohun Bagan need ISL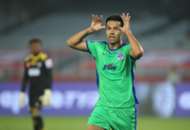 Bengaluru FC striker Miku is the latest footballer to call for a unified top-tier football league in India. The Blues, who made the switch from I-League to Indian Super League (ISL) last summer, finished the 2017-18 league season as runners-up to Chennaiyin FC.
The Venezuelan striker scored a goal as his side thrashed I-League team East Bengal 4-1 in the final of the 2018 Super Cup. Bengaluru had defeated Mohun Bagan in the semi-final. 
Speaking after the victory, the striker said, "It [winning the trophy] is very good. In the ISL, we had a disappointment. We were in the first position throughout. We came here to win this trophy because the club needed it. We needed the trophy."
With the ISL vs I-League debate raging in India, Bengaluru managed to defeat two of the biggest clubs in the country - Mohun Bagan and East Bengal - on their way to Super Cup glory.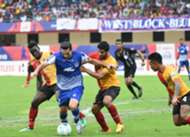 "They [Mohun Bagan and East Bengal] have been big teams with big crowds in the past. They are big teams with a lot of history but their owners or the presidents did not understand that they need to get into ISL to improve the quality of the team. It is not possible for the country to have two first division leagues.
"They have good players, a very good crowd who follow them. They have the budget and history. They can participate in the ISL. They have everything to join another league," opined Miku. 
Bengaluru have made it a habit to score late goals and the trend continued in the Super Cup. The former Getafe striker believes it is because they are the fittest. 
"[We score a lot of late goals] because we are fitter than everybody else. We follow the games and in the last 20 minutes, we see a lot of goals because everybody is tired. We arrive with a lot of energy." 
The Super Cup 2018 win is Bengaluru's fifth trophy in five years and Miku's first trophy with the club.