AIFF Super Cup
Super Cup: Subhash Bhowmick - East Bengal had no plan against Bengaluru FC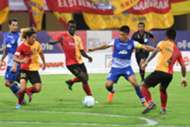 East Bengal's technical director Subhash Bhowmick has accused the team of going into the Super Cup final against Bengaluru FC without a proper gameplan. After the semi-final against FC Goa, the recently instated club director had criticised head coach Khalid Jamil for not having any plan during the I-League season. 
The Red and Golds were beaten 1-4 by Bengaluru FC in the final of the 2018 Super Cup despite taking the lead through Ansumana Kromah in the 28th minute. Right-back Mallick was sent off at the stroke of half-time for lashing out at Subashish Bose and punching him in the face following an attempt at a rash challenge by the Blues left-back. 
"Impossible to beat such a team with 10 men. East Bengal had no planning against Bengaluru FC. We had nothing to do after the red card. It was a bad luck. I won't complain about the referee," said Bhowmick after the defeat.
Gurwinder Singh blatantly handled the ball inside the penalty box and conceded a penalty in the second-half, allowing Chhetri to give Bengaluru a 2-1 lead. 
"In the second half, we tried but after the penalty it became impossible. We got some chances in the first half even after we were reduced to 10 men. After the second goal, it became impossible," he concluded.