AIFF Super Cup
Super Cup 2018: Khalid Jamil - Nobody supports East Bengal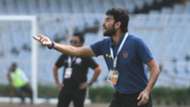 Khalid Jamil couldn't do much as his 10-man
East Bengal
were brushed aside by
Bengaluru FC
4-1 in the final of the 2018 Super Cup on Friday.
"Talking about this game, everybody worked very hard. I give all the credit to boys. They started well. The score wasn't in our favour. No complaint from my side," he said after the defeat.
Samad Ali Mallick's red card in the first-half's injury-time changed the complexion of the game. Prior to that, Ansumana Kromah was brought down by Gurpreet Singh Sandhu and John Johnson as the striker closed in on goal but the referee opted to punish the Bengaluru pair with yellow cards. 
"I cannot talk about referee's decision at all but I think it was a red card. Referees make mistakes, he is also a human being. This is a part of the game. Referee's decision is not in my control," he opined.
When asked about the turning points of the game, the 40-year-old replied, "First it could have been a red card (for Bengaluru FC), it wasn't given and then (Ansumana) Kromah's (disallowed) goal, I don't think it was offside. The result could have been different if Kromah's goal was not disallowed.
"Samad Ali's red card was harsh, it could have been a yellow card. But I was far away and I couldn't see properly. [Playing with] ten men against Bengaluru FC is not easy. They played well, controlled the midfield. We played with a man less so couldn't perform well in second half."

This season, East Bengal won the Calcutta Football League (CFL), finished fourth in the I-League before being runners-up in the cup competition. When questioned if this campaign had been a success or disappointment, the former Aizawl FC coach said, "Nobody supports East Bengal whenever we play. Whenever we play against any team, they always fight with East Bengal. We don't get support from outside. We don't get many things because it is East Bengal.

"This season everyone worked very hard. All credit goes to the players."

The former India international was silent on his future at the club. "I don't want to talk about my future. I don't know if I will stay or leave. Now the game is over, it was the last game of Super Cup and the season. We are not thinking about anything else," he commented.

He again clarified that reports suggesting differences with Technical Director Subash Bhowmick were false. "There is no tussle between the Technical Director and me. Everything is fine."

Lastly, Jamil called for the introduction of VAR in Indian football. "It will be good if VAR is introduced in Indian football. We will see better decisions," he concluded.