AIFF Super Cup
Super Cup 2018: East Bengal's one-dimensional approach massively backfires as Blues show their class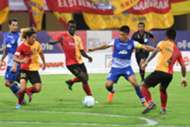 While East Bengal were still licking their wounds from their Super Cup finals defeat to Bengaluru FC, the club's technical director Subhash Bhowmick took a pot shot at coach Khalid Jamil during the post-match press conference.
"Impossible to beat such a team with 10 men. East Bengal had no planning against Bengaluru FC. We had nothing to do after the red card," the veteran bellowed.
He was partially wrong though, for the Kolkata club did have a plan. It didn't really last for more than a half, and it was one that massively backfired.
It was all going to script for Jamil's men until the 40th minute equalizer from Bengaluru right-back Rahul Bheke. The plan from the start for East Bengal's players had been to get into the faces of Bengaluru with some overtly aggressive physical play.
The Red and Golds did not shirk from putting in the tackles as Albert Roca's men were reminded that they were in a final. The mantra was of not allowing the Blues to develop any rhythm in the game and for long parts of the first-half, the strategy seemed to be working.
Bengaluru were not looking like the ominous threat they have been all season long as the game wore a stop-start feel to it with the constant referee interventions. In between all this, East Bengal even managed to play a few neat bits of football and bagged themselves a lead through an acrobatic effort from Ansumana Kromah.
It was once they had found themselves in the lead that East Bengal's plan came undone. The response from the Blues to going behind was mighty and swift. Quite simply, it was in the period of 15 minutes or so post the opening goal that Bengaluru demonstrated their champion's credentials.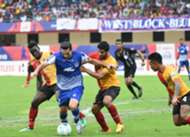 Devoid of any rhythm in the opening half-hour, Bengaluru came out in flying fashion after conceding. It was as if the gears had been switched from one to five in a single click. The Kolkata club found that response too hot to handle as the frequency of the tackles and incessant fouling only started increasing.
That it would lead to a surreal moment of madness from young right-back Samad Mallick towards the end of the first-half was not really a surprise. East Bengal's players had been playing on the edge right from kick-off in fairness.
It was as if they had been told to only play one way and couldn't change their tactics once Bengaluru started showing their true quality. The contest was effectively ended once Mallick was sent-off.
The gulf in quality between the two sides had already started showing when both sides had 11 players apiece on the pitch. With 10 men, it was always going to be nigh on impossible for Jamil's men to mount a serious challenge.
The Blues had already shown that they were a second-half team through the course of the competition. They were never going to need a further invitation to attack after the interval.
The attackers including Sunil Chhetri, Miku, and Udanta Singh looked to be on song and once Toni Dovale was introduced towards the hour mark, East Bengal struggled to get out of their own half.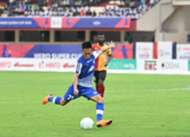 Despite Bengaluru's growing dominance in the game, it was East Bengal who shot themselves in the foot. Mallick's sending off had been bizarre way to go to say the least while Gurwinder Singh's handling of the ball in the box which led to a penalty had been clumsy to say the least.
The central defender had been a walking liability all game with his hot head and his inexplicable decision to try to clear the cross with his hand rather than his head was brainless and senseless to every degree.
In the end, Roca's talismen in Chhetri and Miku showed their class and the margin of victory could even have been higher. Credit needs to be given to Bengaluru for they turned up to the cup competition in determined fashion to make up for their loss to Chennaiyin FC in the ISL final.
They were, by some distance, the best team in the competition and a fifth trophy in their five years of existence is just reward for another impressive season in the top flight of Indian football.
For East Bengal though, it remains a case of what if. They never truly expressed themselves in the match with their football despite having some classy attacking players of the ilk of Mahmoud Al Amna and Katsumi Yusa. While the argument can be made that they were simply not allowed to by their opponents, it can also be said that East Bengal never really gave themselves a chance with their one-dimensional plan.
And once that plan had led to Mallick's recklessness, there simply was no coming back against the superb Blues.