AIFF Super Cup
Super Cup 2018: Albert Roca - Bengaluru FC most consistent team in India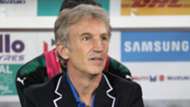 A 4-1 win over East Bengal in the final of the 2018 Super Cup sealed the fifth trophy for Bengaluru FC in as many seasons.

Head coach Albert Roca, who has lifted two of them, was an elated man as his side charted history at the Kalinga Stadium in Bhubaneshwar on Friday.

"First of all, I would like to congratulate all my players, my staff, people on the board and of course I am happy for the supporters. This is a success we were looking forward to from the start of this season. After the Indian Super League (ISL) defeat we were a little bit sad but today we showed again we are perhaps the most consistent team in India," he said.

The game was tied 1-1 at half-time but East Bengal's Samad Ali Mallick's red card allowed the Southern Eagles to stage a comeback in the second half. Earlier in the first half, John Johnson and Gurpreet Singh Sandhu picked up yellow cards for a last-man challenge on Ansumana Kormah. Roca however, was unsure of the punishment.

"For me, it was a yellow card. I don't think it was a red. But it is difficult for me to see from my side. We have also played with ten players against Mohun Bagan and we had scored four goals. I was not scared about that.
 
"East Bengal did a very good job in the first half of the game. After the red card, for sure things had changed but even at 1-1, we turned things back. In the first 20 minutes, we were a little down but we woke up after that. It is not easy after only three days of rest to come back and play such a difficult game.

"East Bengal were a little bit aggressive. Perhaps one step more than what you should be doing in a game. But I understand and I just want to congratulate them for a good tournament they had.

"For me, the turning point was when East Bengal scored the first goal. Another turning point is when Toni (Dovale) came. Dovale in the second half was always asking for the ball - our team needed that at that moment. Toni is a perfect player to understand difficult situations," he analysed.

Bengaluru ended their ISL league phase on top of the table but ended up losing to Chennaiyin FC in the final. Roca paid tribute to his side that fought back hard to win the cup tournament after the setback last month.

He said, "This year perhaps we were the best (team). In ISL we played well but what a shame that we lost in the final. But it happens. Losing the title after leading by eight points was disappointing but it is the rules of ISL and we have to accept that. After that, it was not easy for anyone of us to come here and win the tournament. I am very happy. Three out of four games we came back from behind and won. It is not easy in these conditions."

"I think our good performance is due to the talent and effort. We started pre-season in Spain and knowing how it will be difficult for us this season going into the ISL and Super Cup. That shows how professional my team is. From Sunil Chhetri to the ones who did not play today, I think all of them were really nice and played as a group. When you have talent and give the effort, you can accomplish your goal."

The Spaniard has had to rotate his squad for three competitions (ISL, AFC Cup and the Super Cup). However, he has never complained much, unlike several other coaches who have raised concerns about the scheduling of the competition in such trying conditions.

"It should have been me who could complain about the fixture as I am playing AFC Cup since August. We had come here to fight and win the competition. No point complaining about the fixture. We had come here to play in the Super Cup and we were very serious. You cannot complain, football is like this, you are a professional. The club is paying us to be here until the last day," he opined.