AIFF Super Cup
Super Cup 2018: Albert Roca - Don't want to talk about my future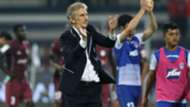 Albert Roca refused to divulge on his future as head coach of Bengaluru FC after winning the 2018 Super Cup in Bhubaneshwar on Friday.

When asked about the prospects of staying in his current position for the upcoming 2018/19 season at the JSW Group-owned club, Roca revealed little.

"I don't want to talk about the future. I am going to talk about the present. In just five days we have a very important game in the AFC Cup. If we win that we will 90 percent into the quarterfinals. Just 2 years back we reached the finals of AFC Cup and we want to do it again," he said.

The 55-year-old's contract is set to expire and it remains to be seen if he decides to commit his future to Bengaluru FC. He has landed two trophies at the club so far - the Federation Cup (2017) and the Super Cup (2018).

While the Indian domestic club season folded with the culmination of the Super Cup, Bengaluru FC still have three AFC Cup Group E games to play in the next three weeks.

Since the former FC Barcelona assistant manager joined in mid-2016, Bengaluru FC have finished fourth in the I-League and then ended runners-up in the Indian Super League (ISL) earlier this season after ending the group phase on top of the table.

It will be interesting to see if Roca does continue with Bengaluru next season, which is slated to start mid-September 2018. The picture will get clearer once the Blues finish their AFC Cup commitments on 16 May.