AIFF Super Cup
Super Cup 2018: Alfred Fernandes - We missed two crucial chances in the end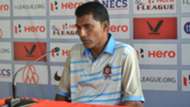 Churchill Brothers bowed out of Super Cup 2018 after losing 1-2 against I-League rivals Mohun Bagan in a round of 16 clash on Sunday at the Kalinga Stadium, Bhubaneswar.
Willis Plaza scored the opening goal of the match to put Churchill in front in the 30th minute but Aser Dipanda's strikes in the 48th and 70th minute of the match sealed the victory for the Kolkata side. 
Churchill coach Alfred Fernandes pointed after the match that Aser Dipanda's goal from the penalty spot changed the fate of the game. He said, "The penalty at the end of the first half cost us the match. 1-0 at half-time is always a great morale booster for the side. The last-minute equaliser lifted Mohun Bagan's morale. They came back strongly after that."
The Goan outfit missed a series of chances in the last 10 minutes of the match. Substitute Francis Onyeama missed two sitters from close range and Willis Plaza hit the side netting once. Speaking of those missed chances, Fernandes said, "We had a lot of opportunities, especially in the last 10 minutes of the match. The result could have been different if we had scored. But sometimes it works and sometimes it doesn't. The boys gave their best. We missed two crucial chances in the end."
This was Churchill's third consecutive defeat this season against Mohun Bagan. The Goan coach suggested that leaving aside the first game where Mohun Bagan ran riot against them by scoring five goals, the other two matches were competitive.
"Three times we have played against them this season. If we see the last two matches, the result could have gone either way. It was a close contest, we missed some chances. Losing three times is bad. They are also a quality side," said Alfred Fernandes.
Mohun Bagan will face the winner of FC Pune City vs Shillong Lajong match in the quarterfinal of Super Cup 2018.