Barcelona
Stick to the day job! Barcelona midfielder Mascherano no match for NFL star Gronkowski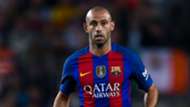 Barcelona's Javier Mascherano is pretty useful with his feet, but less so when tasked with plucking an object out of the air with his hands.
The Argentine clearly made the right call in taking up an outfield post in his younger years, rather than trying his luck as a goalkeeper.
Gronk swaps Patriots for Barca
Mascherano saw his catching ability, or lack of, shown up during a recent meeting with NFL star Rob Gronkowski at the Barca training ground.
The New England Patriots tight end is in Spain taking in a spot of European football during his offseason.
He was in attendance to see Barca crush Sporting Gijon 6-1 at Camp Nou, before deciding to test Mascherano's wide receiving skills.
Fortunately for Gronkowski, those he surrounds himself with at the Gillette Stadium are considerably more comfortable dealing with an oval ball than Mascherano.
He saw injury prevent him from playing a part in the Patriots' most recent Super Bowl success, but the 27-year-old should be raring to go in 2017-18.