African All Stars
'Shocking news!' – Nigerians react to Victor Moses retirement from international duty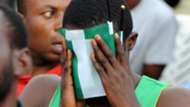 Victor Moses retirement from international duty on Wednesday has left Nigerians left shell shocked.
Moses, 27, highlighted that the reason for his decision is to focus on his club career and family after 12 goals and 37 matches for the three-time African champions.
The Chelsea star played in every of the Super Eagles' matches at the 2018 Fifa World Cup and even scored a goal – a penalty in their 2-1 defeat to Argentina.
Despite the shock, fans appreciated the 2013 Africa Cup of Nations winner for his service to the country.
Waoh! @VictorMoses has just announced his retirement from international football having explored the @FIFAWorldCup 2018 with the @NGSuperEagles ! Best of luck in all your endeavours! pic.twitter.com/VFFL6QbPqF

— Oluseye Petphil (@petphil001) August 15, 2018
At what age..... Sad mode

— chelsbat (@bolashayo) August 15, 2018
Thank you for all your contribution to our dear country some years back, I wish you success ahead.

— Biola Hammed Ajani🇳🇬 (@biolarul) August 15, 2018
@VictorMoses thou I think it is a bit too early to quit the national team as you still have more to offer, I thank you for the memories and the dedication to the National team. https://t.co/Dni9ufNz3k

— Daniel M Bijimi (@Dmeindous) August 15, 2018
Victor Moses is 27 pic.twitter.com/yN9NCzCECS

— Scammy Abuharam (@Nigerianscamsss) August 15, 2018
This is unbelievably shocking. The reason behind this early international retirement resides with you boss. Hope you keep meeting with success on your ways. Thanks for the memorable times spent with our dear country...The @NGSuperEagles will miss you...

— Tosin Morakinyo (@rexmorrisson1) August 15, 2018
Wtf he's 27 https://t.co/z0i9X7JjKy

— David (@TekkaBooSon) August 15, 2018
Coming as a shock though

— Adedamola (@bigbabydam) August 15, 2018
Victor Moses is retiring for Nigeria? pic.twitter.com/MznIcOfUTH

— Amplia (@AmpliaLaFamilia) August 15, 2018
Victor Moses sef dey retire. Na wa o

— OLA 👑 (@Lurd_Yinka) August 15, 2018
This is a strange decision. Why would @VictorMoses quit the @NGSuperEagles at 27? https://t.co/1RUFy4pAbx

— Osasu Obayiuwana (@osasuo) August 15, 2018
Victor Moses is one of the greatest @NGSuperEagles players of all time. If you can't appreciate that, then it's your loss. All the best @VictorMoses pic.twitter.com/BTnNgUGFFA

— Shina Oludare (@sportingshina) August 15, 2018
. @VictorMoses has announced his retirement from international football. Shocking news. pic.twitter.com/J53B6G7QDt

— Al-Harazi (@ClintonSpel) August 15, 2018