Super League
Selangor boss Nazliazmi unimpressed by Evan and Ilham's performance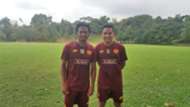 ---
BY        ZULHILMI ZAINAL       Follow on Twitter
---
Following their 2-2 draw against league leaders Johor Darul Ta'zim (JDT) on Saturday, Selangor head coach Nazliazmi Nasir has voiced his hope to get to make roster changes in the now-open mid-season transfer window.
In the round ten Malaysia Super League (MSL) match that was held at the Kuala Lumpur Football Stadium, the visitors only needed two minutes to open the scoring, through Gonzalo Cabrera's goal. But it was the Red Giants' turn took the lead twelve minutes later, through two quickfire goals by Saiful Ridzuwan Selamat (14') and Spanish star striker Rufino Segovia (16'). The Southern Tigers eventually equalised thanks to new signing Novillo Christopher's 67th minute headed goal, but ultimately couldn't find the winning goal.
Speaking in the post-match press conference, Nazliazmi said his men played well in the clash, but lost their focus and conceded the equaliser, to fail to win at home.
"We almost won, but was still failed by the defence's lapse in concentration. That allowed JDT to score the equaliser.
"But we showed good effort, focus and teamwork nevertheless," he remarked.
When asked whether he will be making changes to the team roster, Nazliazmi declined to explain the club's plan in detail, and only said that he hopes he can improve his team.
"We have shown positive signs (on the pitch), but I'm also hoping that I can strengthen the side in terms of player changes, both local and foreign ones. I have to do what's right for Selangor," said the former youth coach.
However, he also hinted at his loss of patience at the performance of Indonesian duo Evan Dimas Darmono and Ilham Udin Armaiyn. Ilham especially has been linked with their former club; Indonesia's Liga 1 defending champions Bhayangkara FC.
"Our foreign players must perform better than the local ones and not become liabilities to the team. But we've been having consistency issues, whereby they fail to play well in most matches they are fielded in.
"I find Evan and Ilham's performance to be average," responded Nazliazmi.
The draw was enough to keep JDT at the summit of the league as second-placed Perak was held to a goalless away draw to Melaka United on the same night. Selangor meanwhile moved up one spot to eighth, but ninth-placed Kuala Lumpur, who only play on Sunday, may still overtake them.