Christian Pulisic
Schalke really wanted to sign Borussia Dortmund star Pulisic, admits director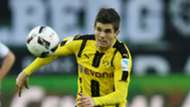 Schalke director Oliver Ruhnert has revealed the club "really wanted" to sign Christian Pulisic before he rocketed to international fame at their rivals Borussia Dortmund.
Ajax's European success is a one-off
Pulisic has captured the hearts of Dortmund fans since his move from the United States. The 18-year-old secured his place in Thomas Tuchel's starting XI this season, scoring five goals in 42 appearances in all competitions for a side that finished third in the Bundesliga and will play in the DFB-Pokal.
However, he could have ended up an enemy of his current side when Schalke made their approach, but they were too late as his future had already been decided.
"We really wanted to sign him," Schalke's director of youth football Ruhnert told Goal.
"We were in talks with his agent, who is responsible for [current Schalke player] Haji Wright and Pulisic. Unfortunately, Pulisic had already accepted Dortmund's offer.
"Although we really wanted him to sign for us we accepted that he already made his decision. It's important for us that players and agents keep their word."
Pulisic has made 13 appearances for the U.S. national team, scoring four goals. He is contracted to Dortmund until 2020.