PSL
Safpu denies receiving R10 million from the PSL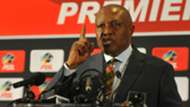 The South African Football Players' Union (SAFPU) took to social media on Thursday night to deny claims that they had received R10 million from the Premier Soccer League (PSL).
The said payment is believed to have formed part of a Collective Bargaining Agreement (CBA). 
In their presentation to the Independent Communications Authority of South Africa (Icasa) on why they want to be in charge of broadcasting rights, the PSL said that ever since they have opened the broadcasting rights for bidding, players now earn better salaries than in the past.
The PSL claims that average salaries for players have increased from R3,000-R5,000 a month to R40,000-R60.000 per month, a top footballer's income has gone up to between R80,000-R400,000 a month.
The league also claimed that it has given R10 million to Safpu and R15 million to Players Medical Insurance Fund.
However, Safpu vehemently denied this statement, and requested the PSL to come with proof. 
"We reject these lies from PSL with the contempt it deserves. How can the league tell such lies!?" Tweeted Safpu.
Safpu said that they have not received R10 million from the league or anything closer to that.
We reject these lies from @psl with the contempt it deserves, how can the league Tell Such lies!? We have not received 10milion from the league or anything closer to that. 2012 we signed the CBA But they didn't honor this part.They must prove it&show where they paid this money🤮 https://t.co/MN9Dh4GSRs

— SAFPU (@SAFPU_Official) August 9, 2018
The PSL said that they previously failed to get a recognition agreement signed by Safpu, but the union has denied the claims. 
Safpu have also been hard at work in recent years trying to hold clubs who fail to pay players to account.
The league, through Lux September, refused to comment on the allegations made by Safpu against them.  
"I have no idea why you asking me to comment on tweets mate. I'm not getting involved in this. There has been NO media statement from the PSL on this," said September to Goal.