World Cup
Safa boss Danny Jordaan happy with decision to shun Morocco's Fifa World Cup bid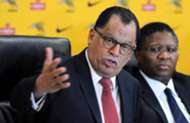 South African Football Association's president Dr. Danny Jordaan says he is happy with the decision to take the 2026 World Cup to the United States of America, Mexico and Canada instead of Morocco.
The Safa boss was speaking in Russia where the final decision was made on Wednesday, following South Africa's stance to vote against the North Africans.
Jordaan was accompanied by Premier Soccer League chairman, Dr. Irvin Khoza and on behalf of Safa, he said that they welcome the decision.
Although the US president Donald Trump has an unhealthy relationship with his neighbours, the country's Soccer Federation president, Carlos Cordeiro said the opportunity to host the global tournament will bring the three countries together, but admitted it was going to be a challenge.
The North Americans pledged their tournament would generate an $11 billion (8.2 million pounds) profit for Fifa - greater than any previous World Cup finals - a financial shot in the arm for the world football's governing body.
However, back on the continent, Jordaan urged the Moroccans to go back to the drawing board and make another bid in their quest to bring the tournament to Africa for the second time.
Eight years ago, the global football showpiece was staged in South Africa when Fifa was still led by Sepp Blatter.
Morocco said their tournament would make $5 billion, a far lesser amount compared to the North Americans.
"I think we supported the united bid and as South Africa, we looked at the facts before us and we are happy with our decision," Jordaan was quoted as saying by SA's News channel eNCA.
"We want to congratulate them and of course Morocco - they have tried five times and it's a pity they could not make it again," he explained.
"But I am sure they will come back again to make another bid," concluded the Safa boss.
The North American bid amassed 134 votes to Morocco's 65. The 2026 edition will be the biggest World Cup ever held with 48 teams set to take part in it. At least 80 matches will be played over a period of 34 days at the 2026 Fifa World Cup.