Malaysia Cup
Sabah complete double over Selangor, PKNS pip Felda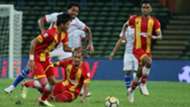 Four matches gone and the 33-time Malaysia Cup champions Selangor are still without a win nor a point in the group stage. The 2018 will not be trophy number 34 for The Red Giants as they are now out of the running to qualify out from the Group D.
The latest was a 1-2 reverse suffered at the hands of Sabah at Shah Alam Stadium. It was exactly the same score as it was when the two teams met at Likas Stadium with The Rhinos achieving a double over the more fancied opponents.
Two second half goals from Hector Ramos (52') and Rodoljub Paunovic (87') sealed Selangor's fate and even though the latter did pull one back through Rufino Segovia in stoppage time, it was nothing more than scant consolation for the home side.
With the win, their third in the group stage, Sabah are leading Group D with 10 points and only need a solitary point from their last two remaining fixtures to seal a place in the quarterfinals.
Over at Tun Abdul Razak Stadium in Jengka, PKNS FC exacted revenge over Felda United with a 0-1 win to inflict a home defeat to the latter after they managed to do the same to PKNS in the previous fixture.
K. Rajagopal managed to get one over B. Sathianathan on the day as a single Mahali Jasuli goal in the after just 11 minutes played turned out to be the only goal in the match.
The win for The Red Ants see them moving level on points with Felda but are in second place because of inferior goal difference to the latter in Group B. Melaka United and PDRM are still in with a chance mathematically to climb above both Felda and PKNS, which will see an interesting final two rounds of matches.