Transfers
Russian club Torpedo Moscow explain reasons for not signing Yobama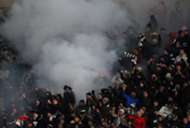 Russian third-tier side Torpedo Moscow have denied claims that they cancelled plans to sign defender Erving Joe Botaka-Yobama because he is black.
After the club announced that they were signing Botaka-Yobama last week, a section of Torpedo Moscow fans protested, publicly denouncing the plans.
A fan of the club went on to write on Russian social networking site Vkontakte that, "Black may be one of our club's colours, but we only want whites in our ranks."
The comments drew condemnation from the All-Russian Union of Footballers which said the remarks did not represent all football fans in the country.
The fans' reaction was said to have influenced Torpedo Moscow in making a U-turn from signing the Pushkino-born player, but the club defended their decision, saying it was not inspired by their fans' racial comments.
The club claimed that the deal to sign Botaka-Yobama collapsed after his former club FC Kazanka Moscow demanded a transfer fee which was against their policy of signing players for free.
Interestingly, Botaka-Yobama is a former academy player of Torpedo Moscow and had left them for their rivals Kazanka.
"In our policy of selecting players, we fully adhere to only sports principles, sharing common human values," said the club in a statement on their website.
"Once again we state that the skin color was never a criterion when selecting a player for the club. Racism has no right to exist. We adhere to this point of view. In the situation with the failed transfer of Erving Botaka, the issue of payment of compensation was decisive.
"Erving - a pupil of the football club Torpedo, was a visiting football player who was on the show during the off-season. His playing qualities corresponded to the requirements of the club. Botaka offered to sign a contract, the transfer was to be held for free.
"However, on July 17, 2018, we received a letter from the previous club of the player with a warning about the need to pay compensation. In accordance with the policy of the club, which does not involve payment for transfers, the transition did not take place. There were no other reasons to refuse the services of a football player."
The player has also previously turned out for FC Solyaris Moscow