Chelsea
Barkley: Conte said Chelsea's system is perfect for me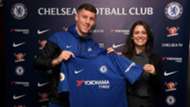 Ross Barkley says he was told by Antonio Conte that Chelsea's system is "perfect" for him as he awaits his debut at the weekend against Brighton and Hove Albion. 
Chelsea didn't quite sign Barkley early enough for him to feature in the FA Cup third-round replay with Norwich City on Wednesday, as he wasn't registered in time for the original match, but he will play in a behind-closed-doors friendly to get his fitness up ahead of his debut. 
The 24-year-old has been unable to play for seven months after requiring surgery for a hamstring injury, and he gave insight into what Conte has been telling him as he trains after his £15 million move from Everton. 
"The manager said the formation the team plays is perfect for me, so now I've got to train well and perform well to be in the team," Barkley said in Chelsea's matchday programme. "My main focus is to be giving it 100 per cent every day in training and our games to show him what I can do. 
"It is a big change, I'm coming out of my comfort zone. This is all new to me, London, but I'm ready for it. I think I'm going to adjust really well. It was a big decision to leave Everton and it took me a lot of time to think over. I felt this was the right thing for me, to help me improve."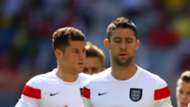 A creative midfielder who likes to dribble, Barkley can play in a No.10 role and has been compared to former England international Paul Gascoigne and ex-Chelsea man Michael Ballack.
He admits that the comparisons are flattering but insists he's keen to carve out a name for himself and not just follow in their footsteps.
"I've got similarities to them, because I like to arrive in the box and score goals like Ballack did, and I use both my feet and like to take players on as Gazza did, but I'm not them," he said.
"I'm Ross Barkley and I've got to create a better version of the player I am and show what I can do, not try to be like someone else. That's part of what I hope I can achieve here, to make people aware of who I am as a player and show everyone what I can do."