Juventus
'Ronaldo guarantees Juventus title until 2022' - Cassano expects 40-goal hauls to dominate Serie A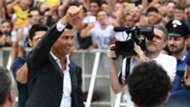 Cristiano Ronaldo means Juventus have the Serie A title "sewn up until 2022", says Antonio Cassano, with the Portuguese being backed to net 40 goals a season.
A €100 million (£89m/$114m) deal has taken the five-time Ballon d'Or winner to Italy, with the Bianconeri having pulled off quite the coup in securing his signature.
Cassano, as a fellow former Real Madrid star, is not surprised to see those at the Santiago Bernabeu part with a 33-year-old talent – even one still at his peak – but is convinced that a modern-day icon will continue to shine in Turin.
The ex-Roma and AC Milan forward told Gazzetta dello Sport: "It goes without saying now, Juventus have the Scudetto sewn up until 2022. CR7 will score at least 40 goals, while I only see Inter behind the Bianconeri.
"Juventus did a great deal by signing the second best player in the world. Of course, I still consider Lionel Messi to be the best, as I even named my son after him. Ronaldo will repay Juve not just in goals and results, but also in economic terms.
"I know Real Madrid well and all that counts, even for Florentino Perez, is the club. When the time came, they dumped the Brazilian Ronaldo and David Beckham, so I'm not surprised they treated Cristiano like that, too.
"CR7 is made for Juve. He's like an extra-terrestrial in terms of fitness, as he loves hard work and never takes his foot off the gas. I'm sure he'll get along well with Allegri, as Max is extraordinary when dealing with champions.
"Having said that, I don't think Juve are the favourites to win the Champions League, as I'd give that to Barcelona."
While Cassano believes Ronaldo will be unable to secure a fourth successive European crown after trading Madrid for Turin, he does believe that more top scorer prizes are heading his way – with it surprising that Juve agreed to let Gonzalo Higuain leave for Milan when he could have formed a fearsome partnership with one of the best in the business.
He added: "Ronaldo will be Capocannoniere, with Gonzalo Higuain and Edin Dzeko on the podium. I'd put Mauro Icardi fourth in the list.
"I do believe Gonzalo could've played with Ronaldo, because he is effectively a copy of Karim Benzema and it won't be easy to find a role for Paulo Dybala now."