UEFA Champions League
Ronaldo critics are stupid and the Winners & Losers of the Champions League
Mark Doyle & Carlo Garganese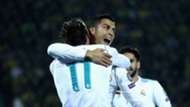 ---
WINNER: HARRY KANE
---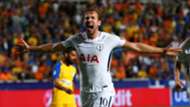 So impressed was midfield legend Glenn Hoddle by Harry Kane's hat-trick in Tottenham's 3-0 win over APOEL Nicosia that he suggested that the frontman could become Spurs' "greatest striker in history".
That is some praise when one considers that a certain Jimmy Greaves – the record scorer in the history of English top-flight football and the most natural finisher the country has ever produced – spent nine goal-laden seasons at White Hart Lane in the 1960s.
However, the way Kane is playing and developing, Hoddle's statements are not completely fanciful. Since the start of the 2014-15 season, the 24-year-old has scored 103 goals in 147 games in all club competitions. He has nine goals in his last five games this term.
And having flopped at Euro 2016 and struggled in Europe last term, he is now producing on the very biggest stage. His treble in Cyprus means he has hit five goals in two Champions League matches, following his double versus Dortmund on matchday one.
Strong, mobile, intelligent, both-footed and powerful in the air, there are no weaknesses in Kane's game. He is the complete centre-forward. Perhaps the only thing that can stop Kane from surpassing Greaves as Tottenham's best ever striker is the club failing to stop him from joining one of Europe's big clubs.
---
WINNER: CRISTIANO RONALDO
---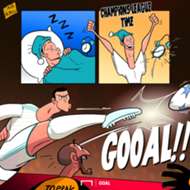 It seems incomprehensible but having failed to score in two La Liga games since returning from suspension, some critics in the Spanish media were actually questioning whether Ronaldo was past his best.
With Madrid enduring a poor start to the new La Liga season and already seven points adrift of Barcelona, the knives were out for the 32-year-old.
"It seems that I have to keep showing exactly who I am in every match," Ronaldo told Atresmedia after Madrid's 3-1 win over Borussia Dortmund on Tuesday in Germany.
"I am an exemplary professional and I always have a clear mind. The criticism is getting worse. I am surprised by what the public thinks of me, my numbers speak for themselves."
They certainly do. Ronaldo's double against BVB means he now has an astonishing 14 goals in his last seven Champions League games. And aside from the two he also scored in matchday one this term versus APOEL Nicosia, all of these goals came against top opposition in big matches.
He hit five of Madrid's six goals in their quarter final tie with Bayern Munich in April, a hat-trick in the semi-final win over Atletico and then a double in the Champions League final triumph over Juventus.
Ronaldo is not Zlatan Ibrahimovic, a flat-track bully scoring against smaller sides. He is not merely a penalty specialist, or 'Penaldo' as his haters call him. He is a goal machine who scores against everyone and performs at his best when it really matters.
And at the age of 32, he is showing no signs of slowing down. Those in the media who say he is finished are stupid.
---
WINNER: GONZALO HIGUAIN
---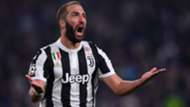 As Juventus kicked off their home match against Olympiakos, Gonzalo Higuain looked odds-on to be one of the big losers of this week's Champions League.
The Argentine had endured such a slow start to the season that he had been dropped for the Turin derby at the weekend, with Mario Mandzukic pushed into his natural striker role. In Higuain's absence, Juventus enjoyed their best game of the season so far as they crushed Torino 4-0.
The ex-Real Madrid man was thus kept on the bench for Wednesday's visit of Olympiakos, a game Juve simply had to win following their 3-0 defeat to Barcelona on matchday one.
However, for an hour the Bianconeri toiled. Their build-up play was slow, Paulo Dybala was stifled and the crisis-hit Greeks were rarely troubled at the back - even spurning one glorious chance to score on the counter-attack.
Higuain was thus summoned from the bench and within nine minutes he became the hero, rifling home at the second attempt inside the area. Juve were transformed with the 29-year-old on the pitch and he was instrumental in creating their second goal as he slipped through Dybala whose goalbound shot eventually found its way into the net off Mandzukic.
"The credit goes to those who stood by me, who helped me and my team-mates who ran to hug me. This was one of the most wonderful moments of my career," Higuain stated after the game. "I am not disturbed by criticism or insults, it's all about having faith in yourself."
Higuain will certainly have the faith of his manager, Max Allegri, again now.
---
LOSER: CARLO ANCELOTTI
---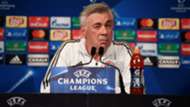 "I thought a lot about what the best team to play was," Bayern Munich boss Carlo Ancelotti said after leaving Arjen Robben, Franck Ribery and Mats Hummels out of the starting line-up for Wednesday's dismal 3-0 loss at Paris Saint-Germain.
"I don't think my team selection was risky. I thought it was a good team for this game but I know I will get criticism and that's fine." It's just as well that Ancelotti is so thick-skinned because he is taking flak now from all sides.
There have already been public shows of petulance among the players after an uninspired start to the season and now he is being target by ex-pros and TV pundits for Bayern's patchy performances. Oliver Kahn even claimed that Ancelotti had arrived in Paris with "no plan".
Certainly, the Italian's side looked rudderless at the Parc des Princes. They enjoyed 60 per cent possession, forced 18 corners yet never looked like scoring. The contrast with PSG was staggering, with the hosts netting with three of their five shots on target. So much for German efficiency!
Ancelotti's reputation as a Champions League specialist is also coming under intense scrutiny, given his Bayern have lost four of their six Champions League away games - they were even beaten in Rostov last year - and three of their last four overall, which is as many as they'd lost in their previous 17 fixtures.
Of course, one could argue that this latest setback merely proved Robert Lewandowski's point that Bayern must spend big in order to continue competing at the highest level, while it must also be remembered that the Bavarians would have beaten eventual winners Real Madrid in the quarter-finals last season had it not been for some horrendous officiating.
However, club chairman Karl-Heinz Rummenigge made it clear after the loss in Paris that he was not interested in hearing any excuses, "I think what we saw this evening was not Bayern Munich."
Ancelotti, thus, needs the real Bayern to stand up for what now look like two potentially tricky ties against Celtic that will decide who joins PSG in the knockout stage. He needs Robben, Ribery and Hummels at their best. Whether they are willing to give him that remains to be seen.
Indeed, there are already rumours that Ancelotti's position will be discussed at a crisis meeting in Munich on Thursday. If it emerges that he's lost the dressing room, he might well lose his job too.
---
LOSERS: BENFICA
---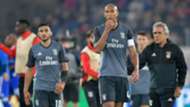 Thrilling as it was to see Basel record one of the biggest results in the history of Swiss football, it was difficult not to feel some sympathy for the Benfica supporters at St. Jakob Park. Even with their side 5-0 down, the Eagles fans kept singing right until the bitter end.
That was admirable in the extreme, given this was the Portuguese club's heaviest European defeat since being routed 7-0 by Celta Vigo in the UEFA Cup in 1999.
"It's hard to explain," Benfica defender Jardel admitted after a game in which his side failed to manage a single shot on target. "But we can't hide now. We have our responsibilities and need to deal with them.
"I have full confidence in this group of players, who were domestic league champions four times in a row.
"With hard work and goodwill we will get out of this situation. We just hope the fans stay with us, just as they did today. Only in that way will we forget this bad moment."
The only trouble is that Benfica's slow, brittle back-line now faces a double-header against Jose Mourinho's free-scoring Manchester United. Indeed, one shudders at the prospect of Jardel and Luisao trying to contain the likes of Anthony Martial given they could not get anywhere near Dimitri Oberlin on Wednesday night.
Benfica's Champions League campaign could effectively be over by the end of Matchday Four.