Manchester United
Revealed: How Mourinho reacted to getting smashed 5-0 by Barcelona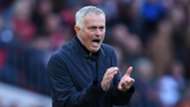 Jerzy Dudek has hailed embattled Manchester United manager Jose Mourinho as one of the finest psychologists working in football, citing his reaction to one of Real Madrid's worst ever defeats as proof.
The former Real goalkeeper worked under the Portuguese at Santiago Bernabeu, and was on the bench for one of the greatest humiliations ever inflicted on Los Blancos.
In 2010, a Lionel Messi-inspired Barcelona brought an end to Real's perfect start to the season by thumping them 5-0. Not only did Barca outclass Real on the pitch, they made sure to rub salt into the wounds.
Sergio Ramos was sent off in the final moments of the encounter and Dudek recalls the aftermath, insisting that Mourinho delivered a masterclass in the dressing room.
"After the match in the locker room, there was total chaos," Dudek said, per AS.
"Some of us were crying, some were arguing, some were looking at the floor."
"Then Mourinho came in. He knew how bad it was, but he looked at us and said: 'I know this hurts you. Perhaps for most of you, it is the worst loss of your entire career. They are happy now and seem to have won the championship, but they have only won one game. This is just the beginning.
"'There is still a long way to get the title. Tomorrow, I will give you the day off, but do not stay in your houses. Go with your families, children or friends for a walk around the city. Let people see that you can overcome this. Perhaps people talk about the significance of this defeat but do not hide behind it. You must show your balls. After this defeat, we must fight for the title'."
"We rose after this disaster quicker than anyone expected. I understood for the first time how important psychology was in sport. How much you can gain or lose. And what an expert psychologist Jose Mourinho is."
Real finished second that season behind their eternal Catalan rivals, but won the league the following season, amassing 100 points.
Mourinho has been at the centre of another storm this season, with reports claiming that he could be sacked at the weekend after a poor start to the campaign, but a dramatic 3-2 win over Newcastle appears to have bought him some time.