PSL
Report: Two men arrested after stealing Kaizer Chiefs' gear worth R1 million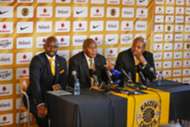 Premier Soccer League (PSL) giants Kaizer Chiefs reportedly nearly lost sports gear worth R1 million last month.

Two men aged 28 and 39 are said to have been arrested by the police, while still in Chiefs' headquarters in Naturena, Johannesburg.

Police spokeswoman Lulo Dube confirmed that the two men were arrested on charges of theft and malicious damage to property.

"The suspects were found in possession of stolen property. They were arrested and detained at Mondeor police station," Dube told Sunday World.

A cop from Mondeor police station, who spoke to the same publication on condition of anonymity, stated that the duo were caught after the police received a tip-off.

"The men gained entry into the Chiefs storeroom [through] the roof," the officer said.

"Police watched them as they were loading jerseys, takkies and tracksuits belonging to the club into their car," the officer added.

"Once they were done and had evidence in their possession, my colleagues then approached them and arrested them," the officer concluded.