World Cup
Referee Lamptey breaks silence on Fifa ban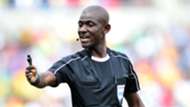 Former Ghanaian referee Joseph Odartei Lamptey has apologised to Senegal following his errors that led to the Teranga Lions' 2-1 defeat to South Africa in the 2018 Fifa World Cup qualifiers last year.
The 43-year-old was found guilty of manipulating the scoreline by Fifa after awarding a 'dubious penalty' and was subsequently slapped with a lifetime ban.
"I deeply love Senegal and I'm sorry. I can tell you that I felt deep pain after having done such an injustice against that country," Lamptey told Senegal News Agency.
"I really love that country. My mistake [in the game] was never intentional. That can happen to you in your line of work as a journalist. Right or wrong? It is truly a human error but never did I want to do something against Senegal for anybody's interest.
He added: "When I came back from the match in South Africa, my wife kept asking me what I had done to the Senegalese people. I told her so many times that it was a huge [human] error that I made against a country I adore."
Fifa has ruled that the game must be replayed in November after nullifying the earlier scoreline.
Goal understands that Lamptey saw his appeal to overturn the ban or reduce it at the Court of Arbitration for Sports (CAS) thrown out last month.