Transfers
Real Madrid regretting losing not only Ronaldo but also future superstar Hakimi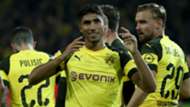 When Spain faced Morocco at the World Cup, there was one Madrid-born teenager that caught the eye despite being on a pitch with World Cup winners and Champions League greats.
But strangely, Real youth academy graduate Achraf Hakimi was not lining out for La Roja, but instead facing the country of his birth while representing his parents' homeland.
Spain's loss looked like Morocco's gain. Not only did the 19-year-old Hakimi perform like a seasoned veteran, he also spoke like one beforehand.
Morocco had already been eliminated but the versatile full-back insisted that his approach to the Group B clash would be anything but friendly.
"I'll be playing against my team-mates and that makes it special but you don't have any friends on the pitch," he told reporters in the pre-match press conference.
"We play for our country, for the feelings of many people, not only Moroccans living in Spain, but for the entire country. We have our way of playing and we must be competitive without the fear of failure."
Morocco heeded Hakimi's words and would have defeated Spain had it not been for a controversial, VAR-assisted equaliser from Iago Aspas in stoppage time.
Hakimi's performances on the game's grandest stage were made all the more impressive for the fact that he had travelled to Russia having played more international games than league games.
Still, after breaking into the Real squad in Zinedine Zidane's final season with the club, he had hoped to stay at the Santiago Bernabeu for the 2018-19 campaign and add to his nine Liga appearances.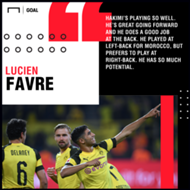 However, he was unsure of what the future held for him, with Spain coach Julen Lopetegui having been announced as Zidane's successor in Madrid on the eve of the World Cup.
"It caught us by surprise, not only myself but I think all you guys too," he admitted to  Football Espana .
"I'll have to go back to Madrid and talk to [Lopetegui]. I want to stay, they're the club of my life and I'm happy.
"But we'll see what happens. I'll talk to the coach and see what's best for me."
However, Hakimi was not part of Lopetegui's short- or medium-term plans and, in July, he was sent to Borussia Dortmund on a two-year loan deal.
The Bundesliga side do not have an option to purchase the full-back as part of the deal but have already benefitted from his prodigious talent.
After scoring once and creating two more goals in his first four league games with BVB, Hakimi had a breakout performance in the Champions League when Dortmund hosted Atletico Madrid.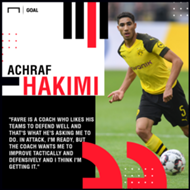 Playing against Spanish opposition is something he clearly enjoys and he thoroughly exploited Atletico's narrow setup to roam down the left before cutting inside onto his stronger right foot.
He ended the game with three assists as Dortmund smashed Atleti 4-0 but revealed that Dortmund coach Lucien Favre believes he can develop his game even further.
"He's a coach who likes his teams to defend well and that's what he's asking me to do," Hakimi told Marca . "In attack, I'm ready, but the coach wants me to improve tactically and defensively and I think I'm getting it."
Favre has no doubts about that, enthusing: "Hakimi's playing so well. He's great going forward and he does a good job at the back.
"He played at left-back for Morocco but prefers to play at right-back. He has so much potential."
At Dortmund, he is showing Real Madrid just what they are missing. He could have been the right-back that Lopetegui needed in his time of crisis.
A calf injury ruled Daniel Carvajal out of the three games that ended Lopetegui's tenure at Santiago Bernabeu, with the former Spain boss reluctant to trust summer signing Alvaro Odriozola and trying a couple of awful alternatives in the form of Lucas Vazquez and Nacho Fernandez.
Centre-back Nacho lined out at the unfamiliar position in the Clasico, where Barcelona ran riot over their rivals, putting the final nail in Lopetegui's managerial coffin.
The next Real boss will not be so quick to let young talent out the door and when Hakimi returns to Madrid in 2020, they will have a fully-formed superstar on their books.