Real Madrid
Real Madrid Foundation Clinics in Malaysia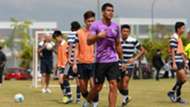 The Real Madrid Foundation Clinics will take place in Epsom College in Malaysia in July – August 2017. This is the first year that the internationally-acclaimed Clinics will be held in Malaysia following the success of the clinics held in Melbourne and Thailand.
The Real Madrid Foundation Clinics ("Clinics") deliver world-class football training and promote values associated with the identity of Real Madrid C.F. 

Aimed at boys and girls between the ages of 8 to 17, participants will be trained by professional Real Madrid Foundation coaches who have, for over a decade, brought their word-class training methodology to thousands of children around the world.
Emphasising on core values of the club such as leadership, teamwork, respect and humility and will aid in the physical, mental and emotional development of participants, the clinics combine on-field skill and technical football training with classroom tactical exercises as practiced by the professional footballers at Real Madrid C.F
In 2016 alone, 35,000 players took part in the Real Madrid Foundation Clinics in over 40 countries around the world.
This unique program developed in collaboration with ECiM will take place from 23 July to 4 August 2017 in both one-week and two-week formats in Epsom College in Malaysia. These are the first residential Clinics in the world.
For full information and registration details, please visit http://www.frmclinicsmalaysia.com. Registration closes on 30th June 2017.