Real Madrid
Real Madrid boo boy Bale has had a miserable 2017 - and here is the proof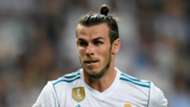 Gareth Bale is under scrutiny once again. Questioned ever since his €100 million signing from Tottenham in 2013 - a record-breaking fee at the time - the 28-year-old is now at the lowest point of time at the Santiago Bernbeu, as he struggles for fitness and form at the start of the new season.
A goal and an assist in the 3-0 win at Deportivo La Coruna on the opening day of La Liga looked like the start of a renaissance for the Welsh winger, but disappointing displays followed in the draws against Valencia and Levante, and even though he was better in the 3-0 win at home to APOEL in the Champions League on Wednesday night, he was targeted by the Bernabeu boo boys.
"Whistling your own player is sometimes what happens here and Gareth doesn't deserve that... nobody deserves that," midfielder Toni Kroos said afterwards. And during the press conference for his contract renewal on Thursday, Marcelo admitted: "We're worried. The important thing is to know if he's happy or not. The person who is happy off the pitch is also happy on it."
Bale has always claimed he is loving life at Madrid despite a difficult spell over the past year or so, during which he has been blighted by injuries and not been able to perform at his best for the Spanish side.
Since an impressive Euro 2016 campaign with Wales, when he led his nation to the semi-finals of the continental competiton in France, Bale's influence for club and country has waned and his stats for 2017 highlight his dramatic dip in form.
The former Tottenham winger has played 17 games for Real Madrid in 2017, starting 13, but has scored only three goals and notched just three assists.
For Wales, meanwhile, the 28-year-old has played three times this year, but is without a single goal or assist for his national team in 2017.
Bearing in mind that he has 68 goals for Real Madrid and 26 for his country, his recent numbers are well short of his habitually high level.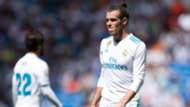 Bale was out for four months with a serious ankle injury that required surgery late in 2016 and returned towards the end of the season, playing only a bit-part role as Madrid claimed La Liga before coming on as a substitute in the Champions League final in his native Cardiff.
Some sectors of the Spanish media have suggested he is scared of picking up another injury, but Zidane said on Wednesday: "He is looking better every day to me. It will take time. I'm happy with his performance."
On Sunday, Madrid travel to in-form Real Sociedad in La Liga with Cristiano Ronaldo suspended and Karim Benzema still sidelined. "Cristiano is out and Benzema is out, so let's see what we will do," Zidane said.
Bale, who could feature on the left or in a central role, has scored in every one of his four league visits to Anoeta (five goals in total) and Sunday's tough match would be the best possible time for him to recover his form in front of goal after what has been a difficult 2017 so far.