Malaysia U23
QPR's Ramsey believes club development program is the way to go for Malaysia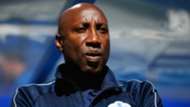 As someone who has been involved with football since the late 70s, Chris Ramsey has been in various capacities from being a player to a coach and is now Queens Park Rangers' Technical Director. He was in Malaysia earlier in the week on the invitation of Ong Kim Swee and B. Sathianathan on behalf of the Malaysia Football Coaches Association to give a 3-day seminar to the local coaches pertaining to youth development.
Having previously been part of the England U20 set-up and now working behind the scenes to oversee the development at QPR, Ramsey is well placed to share his knowledge to budding as well as experienced Malaysian coaches. The association of Ramsey to Malaysia is of course a deep rooted one as his club is owned by Malaysian businessman Tony Fernandes adding to the fact that Ong spent a large period at QPR alongside Ramsey during a training stint in 2017.
Ramsey was able to also take in a couple of matches in the AFC U16 Championship that is being held in Malaysia where the participants of the seminar are to observe matches that included Malaysia's defeat to Japan. And the 56 year old shared to Goal what he thought of the Malaysian team.
"Obviously it has been a program (NFDP) that has been 3-4 years in the making. The first two games they played very well but coming up against a team like Japan who had a well formulated plans for years is always going to be difficult for any team from any country." 
"The Malaysian players you can see put the effort in and try work to the plans set out by the coach but sometimes it doesn't work out your way. I worked for the FA in England and international football, so I know how difficult it can be to take players from all over the country and try to gel them into one.
"But the crux of it is the same. You have an idea how you want to play and an idea how a country believe football should be played, and you try to make sure all the teams play in a similar fashion. Obviously we know it's not as simple as that from that point of view because different coaches have different ideas. But I'm sure everybody wants the same thing," he said.
Ramsey who also managed QPR in 2015 in the English Championship, believes that clubs should take more initiative to develop players but prefers that the agenda and format is set by those from the national level.
"In a club program, you're always recruiting so players come in and out of the program quite frequently. At the clubs, we start at nine but I don't think that's right for a national program. It should be older than that." 
"A country like Malaysia where you have a new technical director and a new coaching education director along with the coaching staff of the national team, they should come together and try to educate the coaches. The coaches can then work with the players in their own clubs.
"I'm a believer in good technique which allows you to play different tactics. That's probably one of the things that need to be look at when you have a country developing in football," he added.
Follow Goal Malaysia on Instagram