Transfers
PSL teams line up for Manqele following his departure from Kaizer Chiefs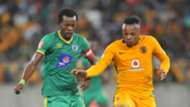 Edward Manqele's agent Michael Ngobeni claims PSL teams are already lining up for the signature of the 29-year-old striker, who parted ways with Kaizer Chiefs over a week ago.  
Ngobeni revealed that Manqele has been paid everything that's due to him by Chiefs, adding that the former Bafana Bafana marksman was more than happy to leave the club he joined in August 2015.  
The football agent confirmed that Manqele is in good shape despite not kicking a ball since 2016.  
He is confident that the player will find a new club in the near future although he wasn't prepared to disclose the names of the teams he's been in contact with regarding a possible deal.  
"Yes, everything is fine. Terms were agreed. So, he was happy to leave, and they were happy to let him go because he needs to find a new team so that he can play," Ngobeni told Goal.
"The boy is in good shape. We have something coming up for him soon. We will let you know. We just wanted him to be free first, because it doesn't help for a striker of his quality to be sitting and not playing. If you're no longer in the coach's plans then definitely you need to go elsewhere. Chiefs were willing to let him and he was willing to go. So, everything was just OK," he explained.
"There are PSL teams that have already shown interest in him, but I can't reveal their names as yet. We have already been approached. You know Manqele and what he's capable of doing. He just needs to be given a chance, and there's no doubt that he can score goals, and everyone is aware of that," concluded Ngobeni.