African All Stars
Portland Timbers' Fanendo Adi credits teammates for historic club record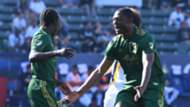 Portland Timbers forward Fanendo Adi has praised his team mates for putting him in position he finds himself after setting a new club goal record.
The Nigerian scored a goal in the Timbers' 3-1 win over Philadelphia Union on Sunday, to become the all-time leadng goalscorer with 46 goals,
Adi who has scored five times in six league games this season, noted that his colleagues in the Providence Park spurred him to the place he is presently by breaking the 35-year goal record held by John Bain.
"It's a good feeling. But also you just have to know it's not just for me. It's for the entire team," Adi told Oregon Live.
"I think the guys did well to put me in the position I am today.
"I'm a guy that focuses more on the team. We have to do well. We have to get to the playoffs."
2015 MLS Cup champions, Portland Timbers are placed first with 13 points on the MLS log and will play Sporting Kansas City in a league game on Sunday.