African All Stars
Portland Timbers' Adi positive of a great MLS season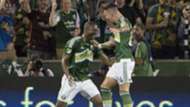 Nigeria's Fanendo Adi believes Portland Timbers will have a special MLS season after a successful pre-season tour campaign in Tucson, Ariz.
Portland Timbers ended their impressive off-season form with just  a defeat in six games and will welcome MLS newcomers Minnesota United to the Providence Park on Saturday morning.
Adi who was named the Timbers top scorer last season with 16 goals, is upbeat that the Caleb Porter's side can bring their pre season form to the new MLS season that starts on Friday and win more laurels.
The Super Eagles forward has been the Timbers top scorer for two consecutive seasons and believes that the players behind will make it a great year for the Providence Park outfit who couldn't secure a MLS playoff spot last season.
"We are hoping that it is going to be a very good season," Adi told club website
 "We had a very successful preseason, playing friendly games against very good teams, so we are hoping that will translate into the games that matter the most. Hopefully we will go into the game on Friday with confidence from our last game.
"Everyone needed to rest after 34 games in the season.
 "It was a good offseason, but now that we are back there is just one thing on the plate: we play for trophies, we play to win games as they come. We are going to lose some, but the focus of every game is to come into the game and win.
"I think we have had great teams [in previous years], but right now there is something special about the front four, the front six, and the entire team.
"I have got really great players behind me right now that will make my job easier and I just have to play to their strengths as well as they play to my strengths. All I can say is that I believe it is going to be a great year."