Shu-Aib Walters
Player Perspective: Taking the PSL to another level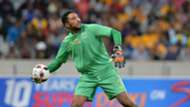 ---
PLAYER PERSPECTIVE:    SHUAIB WALTERS       Follow on Twitter
---
I want to start this week with our game against Pirates while the agony of my mistake is still fresh regarding my lapse in concentration.
I had a really good game up until the 82nd minute, where instead of catching the cross, I wanted to let it go out for a goal kick, which resulted in a goal. I feel it is important to acknowledge your mistakes and to learn from them.
My message to all professional, semi-professional, amateur and aspiring goalkeepers is that concentration is a vital part of your game and it takes years to master. I've been playing professional football for 10 years and I haven't even mastered the skill to perfection yet, and I am constantly working at it.
Now that I've gotten that off my chest, let's move on to the actual topic for this week… What can the PSL learn from the top leagues in Europe?
REVEALED: AFRICA'S FIFA 18 DREAM TEAM
My first thought would be the timing of the PSL. Football is a winter sport, I think a start would be to move the PSL season to run from March to November.
My reasoning behind this is, I remember playing Platinum Stars one afternoon at 3pm in February- with the temperature at 30° plus. We required additional water breaks because of the heat. Another example is playing Polokwane in December in the Limpopo province where temperatures can soar to 40°.
Personally, I could train the whole day if it was drizzling with mid teen temperatures.
Another issue that should be reconsidered is the fixtures for the PSL- more specifically the Cup and League games. I'm of the opinion that Cup games should be played on week days.
Our team was fortunate enough to make it to the final so there is no long gap between our games – other teams were not as fortunate and would their have breaks of up to two weeks between games because they were not playing Cup games.
EVEN WITH RONALDO, REAL ALREADY RISK GIFTING LIGA TITLE TO BARCELONA
This could pose a challenge as players can lose momentum. The Fifa break also poses this challenge.
Yes, I am aware that sponsors would want the weekend slots as this would increase the support at games.
Another thing that I passionately believe in, is that each province in South Africa should have a state of the art football development academy for young boys who have been identified as very talented.
This academy should school and house these boys from a young age, in the same way as is the case in most European countries. That is why Germany did so well in the World Cup with their young team.
Then there is the issue pertaining to the rule with the first division and Vodacom teams where you can only have a certain number of players over a certain age play at one time. This lends to all kinds of problems including games not being played to their full potential because of the lack of experience within the team.
Till next week!