PSL
Player Perspective: Referees in the spotlight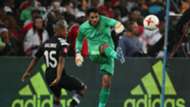 ---
PLAYER PERSPECTIVE:    SHUAIB WALTERS       Follow on Twitter
---
Let me start this week by congratulating Banyana coach, Desiree Ellis on becoming the first South African to win the Cosafa Cup championship as a player and as a coach!
What a phenomenal achievement! You are a true inspiration and a perfect example of how determination and not allowing social stereotypes to distract you from your dreams and passion can lead to great things. WELL DONE!!
So, this week, I am talking about the state of referees in the South African game. As we know, there has been an increasing focus recently on South African match officials, more so with match officiating in recent PSL games.
ELLIS, SMEDA AND KGATLANA REFLECT ON BANYANA'S COSAFA TRIUMPH
This begs the question as to what the underlying problem could be?
Perhaps the following questions should be asked:
Firstly, are the referees properly trained and educated on the laws of the game? How is their performance monitored?
Is there a possibility that there might be favouritism for certain teams, which could lead to match officials being consciously or subconsciously biased in certain games?
Lastly, and this one relates directly with the Fifa announcement recently that has set the football world abuzz - the possibility of match fixing.
To eliminate these possibilities, I think Safa should introduce replays into PSL games as is done in rugby and cricket.
This will ensure more accuracy and, essentially, a game that is fairer.
VIDEO: OPTA EPL PREVIEW - WEEK 7
Technological developments have become very active in sports in recent years, improving player`s abilities, and officials' decisions in other sports.
I am of the opinion that the latest technology should be used for replays when referee calls are in question.
It should be a natural evolution of the game. Replays are meant to make games fairer.  Players, teams, coaches and clubs work hard all season (and pre-season) and don't deserve to lose because of one bad call.
It happens so often, which could be very frustrating, considering it could possibly be prevented.
I think deciding between opting for longer games with no referee mistakes or shorter games with controversies and referee mistakes is easy; it should be the first option.
Weighing up the options and the damage caused by extending matches by a few minutes is relatively small in my view, compared to the damage when a game or even a season outcome is decided by a referee mistake- you be the judge!
Till next week!