Perak II
Sepak takraw, valve regurgitation and the coach that keeps Shahrel burning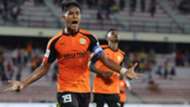 For some, the pathway to professional football is a relatively easy path. Blessed with supreme talent and matching physical attributes, these players are picked up by big clubs from a young age and progress through to first team football. For others, it's a more rocky path and this latter category is the path that Shahrel Fikri had to take to reach where he is today.
Helping PKNP FC to a shot at promotion to the Super League, leading the club to have one foot in the Malaysia Cup semi-final and making his debut for the Malaysia national team - it has been a roaring successful year for Shahrel as a footballer.
Known amongst his friends as 'Eky', Shahrel's performances this season have really made headlines but all these almost didn't happen for the 24-year-old. In an exclusive interview with Goal, Shahrel opens up on his footballing life.
Born and raised in Manjung, a district that is approximately 80km southwest of Ipoh, it's a town more famous for being a gateway to the beautiful Pangkor Island than it is for producing professional footballers.
"It was in 2004 when I was 10 years old that I started playing football, mixing with kids older than me in the fields around where I stayed. It went well for me and before long I was playing for my school, SK Ayer Tawar. I stayed in the team until 12 years old and it was then that I made it to play for the district. We didn't win any tournaments but I've always been a starter," said Shahrel.
"When I went to Form 1, the football program is school was full and I had to choose another sport. So I took up sepak takraw. But because I can't go far there, I went back to playing football in Form 3 and managed to get selected played for the school up to the Under-17 level.
"After taking my SPM, I started playing in the Manjung League for a club call Manjung Junior Club. When I was 18, i tried out for the open selection for Perak Youth but wasn't selected and thus continued back in Manjung League."
Rejection would have turned the heads of many youngsters, pushing them back onto the education trail or seek some other forms of careers. However, Shahrel remained undeterred and was bent on making it in the sport. Just a year later, things turned for the better for him.
An individual would appear in his life and become someone who is still very much relevant to Shahrel even now, six years on from that fateful that when he decided to give professional football another shot.
"When I was 19, tried out for President's Cup team and it was Abu Bakar Fadzim who selected me. Then I started playing in the King's Gold Cup. The President Cup started in 2013 and I couldn't be happier with what happened. I managed to score 10 goals. Perak got into the final but we lost to Kelantan.
"After the league finished, coach Burn said he will send a few players for selection at Young Tigers B. So i went but it was there I got stuck with the medical. I was diagnosed with a heart condition and thus failed to make the team."
It was heartbreak again so Shahrel, so soon after he had been given a big break. The doctors diagnosed him with a leaky heart valve and told Shahrel that he had to undergo surgery to install an artificial valve to solve the problem. The doctors also told him that under no circumstances should he continue to be playing active sports.
For someone who had always think of himself as being fit and healthy, the news came as a big shock.
"I have never had any checks before that. I had to discuss with the family but we decided that since I didn't feel troubled by the condition, that we do not go with the surgery. Yes, it's a risk because it's related to the heart. I have never fainted nor blackout. Of course I feel tired but like any normal player would do after training or after a match. 
"I rested 2 - 3 months after the report. But then I got a call from Perak FA asking me to come into office and they told me to get another checkup at Ipoh General Hospital. After the second checkup, I was told that I can play again. I wasn't given any medication."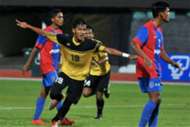 It was words that breathed life back into Shahrel who accepted the risk with the consent of his family and coaches, and jumped straight back into football. Success would soon follow for determined Shahrel. He won the President Cup and SUKMA with Perak in 2014  before making the leap to PKNP in 2016.
Looking back, Shahrel isn't in doubt who has been the biggest influence in his career. It was Abu Bakar who first put his faith in the youngster when he brought into Perak's President Cup team and the same coach is still overseeing his development in the Premier League.
"Abu Bakar Fadzim is the one who has helped me the most. He's a great characters and helped me tremendously both physically and mentally. All he ever wants is for the players that he guides to be successful. He gives a lot of motivation and only ask us to perform in matches to what we can do.
"In my career, I have always been a striker but now a left forward in PKNP. When we were in the FAM League, I was the striker but when we reach Premier League and were allowed to get imports, I was moved out wide. 
"It hasn't affected me. It's different of course, there's more space to exploit out wide compared to being marked tight as a central striker. I'm now able to show my dribbling skills as well."
While the announcement of the latest Malaysia national team call-up was done in August, Shahrel had already found out about the new in late July and the manner in which it came, caught him a little bit offguard. 
PKNP were preparing to play Perlis in the unfamiliar surroundings of the Batu Kawan Stadium due to works being done at Perak Stadium. The announcement of his selection happened in a bigger crowd that the shy Shahrel was hoping for.
"Coach Tan [Cheng Hoe] called Coach Burn and then he told me I was selected. I was surprised because I'm playing in the lower league and I thought I was being pranked. It was during the briefing for the game against Perlis in Penang. After the briefing, he told in front of everyone and my team mates all clapped."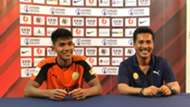 It was just reward for the performance that Shahrel himself has put in this season. PKNP are still in contention of a place in the Super League next season if they can get good results in the final three round of matches in the Premier League. 
With matches against Negeri Sembilan, Kuantan FA and Terengganu left to play - destiny still lies in their own hands as two of those three opponents are direct rivals for the two promotion spots. Although, that wasn't really the target for PKNP at the start of the season, with safety being their first priority.
'The target from the start wasn't to get into the Super League because we are a new team. but game by game we started performing and winning. We are fourth now and only 3 points behind, Coach Burn wants us to give the last push to get the promotion spot.
"The difference between PKNP and others are our close relationship, team spirit and our hard work. Everyone know that Coach Burn works us like crazy in training. But we get the benefit on the pitch and the result. We are a team that doesn't give up until the end."
Against Felda United in the first leg of the Malaysia Cup quarterfinal last Friday, Shahrel popped up with a hat trick to bring PKNP on the verge of achieving the impossible - a place in the semi-final. Two goals were scored with his right foot and another with his left, but Shahrel reckons that heading is one of his best attribute, perhaps imitating his idol, Cristiano Ronaldo.
Shahrel has already trained with another one of his idol during the recent national team training camp.
"In the league, I've scored most of my goals through headers. I can shoot well but my headers are my best attribute."
"I have to admit that when I was young and where I was staying, it was hard for me to follow Malaysian football. Sometimes I do go to ipoh and watch Perak, Khalid Jamlus is the player i admired last time. Wan Zack Haikal is my idol because he plays in the same position. he's a silky player who has got pace, characteristics which I also have."
Shahrel has a contract with PKNP until 2019 and given the depth of the gratitude that he has for Abu Bakar Fadzim in helping to shape his career, may well stay loyal to the club until then. However, if he continues to improve on the scale he's on this season, external overtures may soon test his loyalties.