Mamelodi Sundowns
Pitso Mosimane: Sundowns must accept Telkom Knockout defeat to Baroka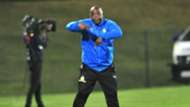 Mamelodi Sundowns coach Pitso Mosimane believes that they cannot win all of their matches following their 2-0 defeat to Baroka FC in their Telkom Knockout Cup quarter-final encounter on Saturday afternoon.
The Brazilians' boss was left to lament Sundowns' poor finishing but praised some elements of his side's performance.
"Yeah this game was not meant for us let's be honest....look we played well but we never showed that we were about to score," Mosimane told SuperSport TV.
"We moved the ball well and you know it's a Cup game, an awkward game, and it's a handball and a penalty, it is a hand ball and a deflection, it's a goal," he said.
"2-0 you are out and it's part of the game, you have to accept and move on. Congratulations to them," he responded.
It is now back to the drawing board for Sundowns as the wait for silverware this season continues. 
"It will take time for us to get the quality, you have to be patient..it's part of the build up for the team and you have to accept and understand otherwise you are not reasonable, we will get there...it's okay for them to win, they deserve it," he noted.
"We can't win every game, it's a Cup game and they worked hard for it, we did well but not enough to score, you got to accept and move on. It's life and part of football," Mosimane responded.
"We have to accept this in our football careers, if you don't accept this you cannot be part of football. If you don't lose then who must lose?," he questioned..
"They have (Talent) Chawapiwa who is cheating, he doesn't come back to defend and they get the ball and they play to him. It's easy to play like that but you can't play like that all the matches," said the coach.
"He is a very good player, very impressive but you can't just sit there and not defend. It works for them. It's just unfortunate and it was an awkward game," he continued.
"There's a handball and a deflection, you have to budget for all these disappointments otherwise don't be in football. If you want to win all the time then you are selfish and unreasonable, don't lose focus," he said.
"We will focus on the league and the Champions League, those are the big ones and you can't have everything," he concluded.